When you purchase a ceiling fan light, you'll see the label that has the rate of maximum wattage to use a bulb before installing. For beginners, welcome to the explanation about ceiling fan light wattage limit. 
Based on the wattage, a light bulb can be too dim or bright. For that, the safest option would be by following the manual which comes with the ceiling fan light or checking the label to avoid mishaps. 
Also, can you add a light kit to any ceiling fan? The simple answer to this query is yes but you need to know the right wattage it can handle otherwise damage is sure. Let's move to the next segment…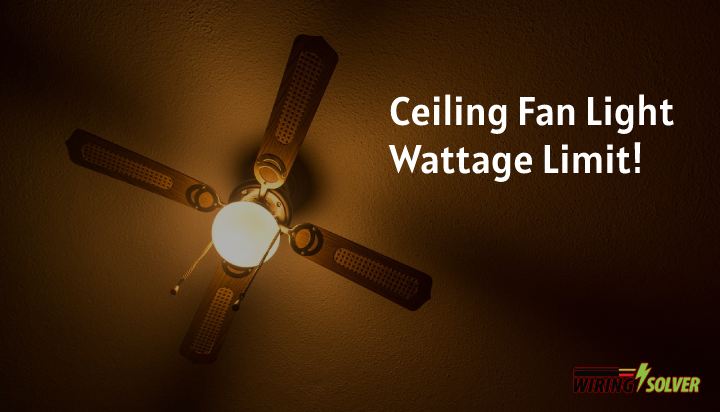 Ceiling Fan Light Wattage Limit & The Reason for Its Restriction.
Mostly the wattage limitation of ceiling fan light depends on the amps and voltage of bulbs. And, you are allowed to use 80% of the rated wattage given by the dealer.
Do you know most of the ceiling fan light dimmer problem occur from overheating and fire of sockets which usually happen due to the wrong wattage?
| | | |
| --- | --- | --- |
| Incandescent Wattage  | Luminous Intensity | LED Wattage |
| 40W | 450 Lumen | 9W |
| 60W | 800 Lumen | 13W |
| 75W | 1100 Lumen | 18W |
| 100W | 1600 Lumen | 24W |
| 125W | 2000 Lumen | 26W |
These 2 wattages of power are good to make ceiling fan light brighter but there's another option out there. Just check the wattage which is written on the bulb label, which indicates the power it uses.
Look at the label which is mostly written on a silver sticker of the bulb's socket to find the wattage. According to the 2007 EISA, the wattage limitation of light is 190 watts.
You need to consider the bulb type too. Before you ask what kind of lightbulb goes in a ceiling light, do you have one? If not, give priority to durability, quality, and characteristic features when picking a lightbulb for the purpose.  
My Recommendation
As an excellent pick, the Hansang LED 6 Watt Bulb Set can be used on the ceiling fan. Thanks to its great efficiency and lifespan, this would shine bright to illuminate while saving 90% energy.
Next on the list is my favorite known as the Comzler Ceiling Fan Light Bulb Set. It contains a total of 6 lights which is eye-friendly and non-dimmable due to the 600LM intensity. 
Why Consider the Wattage Limit of Ceiling Fan Bulb?
To avoid damage, you need to check the wattage limitation of light before using it on the ceiling fan. Take a look down below to know all the harm that happens if not considering the wattage restriction.
Overheating results in socket melting.
Fire due to heavy load of power.
What kind of bulb goes in a ceiling fan?
It's possible to use any type of bulb from traditional to contemporary design with no hassle. You can use low-wattage (40W, 60W, & 75W) or high-wattage (100W or 125W) bulbs based on the socket power. So, what watt bulb for ceiling light is good to go with? 
And, the socket watts don't always mean the exact power that you have to use light bulbs on the ceiling fan. You can verily use the 100W or 75W bulbs on the ceiling fan even if the power of the socket is 60W. The bulbs (100W or 75W) will use less than 60W watts to run them.
How To Calculate the Wattage of Ceiling Fan Light?
In order to find the wattage of light for the ceiling fan, you need to calculate it by multiplying the voltage and amperage of the power source. 
Formula: Volts x Amps = Watts
For example: 

Your power source Voltage is 240V while the Amperage is 0.5A then, 

Wattage = 0.5A x 120V

= 60W.
Frequently Asked Questions
1. Can I put a 60 watt bulb in a 40 watt ceiling fan?
Yup, of course! But you have to confirm the good airflow around the socket otherwise damage will occur like overheating of the light bulb. Due to this, the socket might melt easily while harming the wires insulator resulting in a fire in your apartment.
2. How bright is 60 watts?
The 60 watts bulb is super bright which contains 800 lumens in most houses. And thanks to its unit of luminous flux, it ensures better lighting.
3. How many lumens is a 40 watt bulb?
Just like 60 watts, the 40 watts bulb will illuminate properly at 450 lumens. Which ensures good lighting that doesn't blind others or give pressure on the eye.
4. Can you use a 75 watt bulb in a 60 watt?
Yes! Just confirm the rating of the 60 watts socket. If it is, then you can eventually use the 75 watts bulb. Plus, it allows users to even use 100W or 125W bulbs in 60 watts sockets since they both drag less than 50-watt of power.
Wrapping Up
That was all I can do to explain about the ceiling fan light wattage limit with some queries which most people usually ask. Even though the responses are very brief, still I have described some good-to-know topics in this guide so you know why it's essential to consider the whole thing.
Hope investing time in this article was worth it. You've successfully learned all the things which are required to be able to add the fixture at your home.
And if you feel like in need of personal study, then go ahead and do so. It's time to bid farewell. Till I Catch You On The Next Piece, Stay Safe!