In the past, ceiling fans could only be operated by switches, but with the rise of technology remote controlled ceiling fans have become more and more common.
If you are considering getting a remote-controlled ceiling fan, then it is only ordinary for you to ask, can you wire a ceiling fan without a switch? or perhaps you may think, can you even run a ceiling fan without a switch?
In simple words, the answer to both the questions is yes, you can. For more details, stay with us and keep reading through.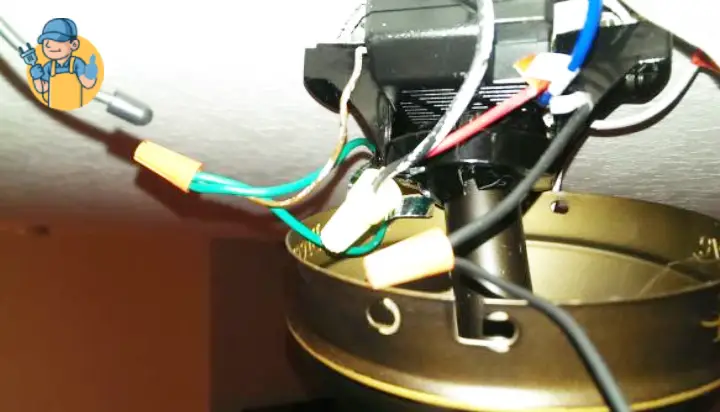 Can You Wire A Ceiling Fan Without A Switch?
Yes, you can wire a ceiling without the help of a switch. Below, we'll tell you all the details regarding the process. So, continue reading to know learn how the process works.
How to Wire a Ceiling Fan Without a Switch
Firstly, we will be discussing how to wire your ceiling fan without the use of a switch.
Step 1: Get to Know What the Wires of the Colors Mean
So, before you begin anything at all, we want you to be familiar with the colors of the wires and know what they mean: the blue wire is for the light, the black wire is for the fan, the white wire is for the fan, the green wire is the ground wire, and finally you may see a red wire sometimes which is the conductor carrying power to the light kits.
Step 2: Take All the Precautions
After that, ensure your circuit breakers are all off for your safety. Additionally, wear gloves and make sure your hands do not have any moisture at all.
Step 3: If You Have a Ceiling Light With a Flush Mount, Remove it
You will have to take power from a source nearby, and this process is also similar to the wiring of the ceiling light so let's give you the additional thing you'll have to do with a ceiling light which is taking the cover off.
Taking off a ceiling light cover is no big hassle but we'll be giving you a quick guide on how to take a ceiling light cover. Hold the cover with one hand, and then turn the finial anti-clockwise, and if there are screws, you will have to loosen them as well.
Step 4: Connecting the Wires in their Correct Orientations
As we have mentioned before, you must be familiar with the colors of the wires, or else the wiring instruction will be giving you will leave you puzzled.
To begin, grab the neutral wires as in the white wires of your fan and your ceiling, then connect them. After that, you will have to link the black wires as well as connect the ground wire to the green wire. To finish off, just connect the blue wires even if your ceiling fan does not have a light. After tucking all the wires into the box, you should be good to test your ceiling fan.
The Issues with Getting a Remote-Controlled Ceiling Fan Instead of a Switch one
The biggest concern that people usually have regarding remote-controlled fans is what if the fan remote is not working anymore? You should first check whether the batteries in the remote are positioned correctly; if they are, then test the remote with new batteries. Unfortunately, while you will be resolving the issue, you will have to sweat in the heat without a fan for a bit.
You must keep in mind that remote-controlled fans can be much more expensive than your regular ceiling fans with wall switches. Furthermore, if you lose your remote, this will bring up a whole new issue of buying a remote again.
For convenience, having a wall switch along with a remote can be handy, but if you are wondering does a ceiling fan with a remote needs a switch, then no, it doesn't really need one.
If you have another question about How to Convert Downrod Ceiling Fan to Flush Mount?
We have a detailed guide on converting downrod ceiling fan to flush mount. Make sure to check that piece for learning about the process in detail.
Conclusion
The tasks that we have described in this article are certainly no cakewalk, which is why we encourage you to read our instructions multiple times so you can get more clarity, and therefore are less prone to making mistakes.
We hope the question, can you wire a ceiling fan without a switch, will not be bothering you anymore, and you have found your answer here. Please be careful when dealing with wiring, and make sure to always turn the power off when you are dealing with electrical components.