It is common to reverse a ceiling fan's direction twice a year. As the direction is based mostly on the season. The preferred ceiling fan direction for summer is counterclockwise, and clockwise for winter.
However, sometimes due to a faulty mechanism, the ceiling fan won't reverse direction. The reasons can vary based on your ceiling fan brand and model.
The reasons for a ceiling fan to not reverse can be many based on the model and the mechanism your model uses. Such as a malfunctioning switch, bad remote, wrong combination, etc.
In this article, I will go through some of the most possible causes, for which your ceiling fan might be stuck in one direction, and provide instructions on how to fix them.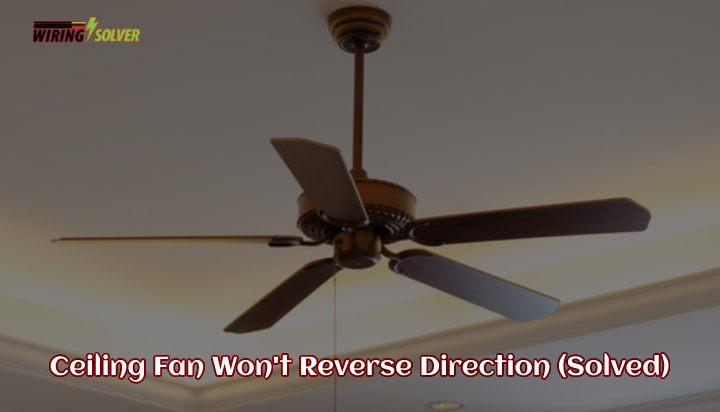 What Causes a Ceiling Fan to be Stuck in One Direction?
The possible causes will vary across different brands and models, as they each employ a different mechanism to change the fan direction. But below are some of the most common issues you will encounter while changing a ceiling fan direction.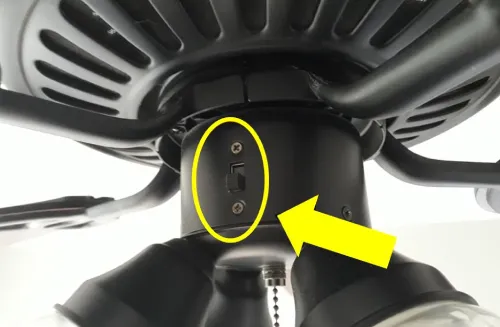 Broken Directional Switch:
One of the most common mechanisms of reversing a ceiling fan is with the use of a directional switch (Fig 1). Most commonly situated at the top of a ceiling fan. Often, if the switch is broken, the fan will be stuck sipping in one direction, as you will not be able to use the directional switch to reverse the direction.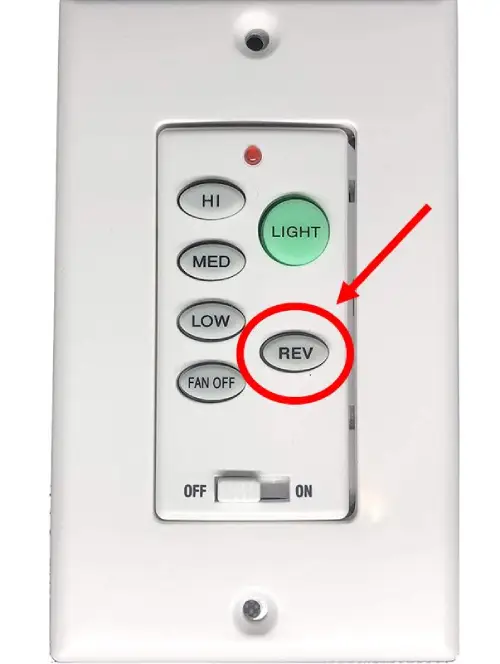 Malfunctioning Remote:
But, how to change ceiling fan direction without switch? Well, newer and better fans these days come with remotes to allow user convenience. You don't have to go up to the wall outlet to turn your ceiling fan on or off. For the ease of the user, ceiling fan remotes often come with the feature of changing your fan direction (Fig 2). It may have a dedicated button for reversing a fan. Or the user may have to follow a specific sequence of actions.
However, if somehow you have a malfunctioning remote, you won't be able to change your ceiling fan direction. The causes could be many. Bad batteries, bad transmitter, etc.
Broken Wall Control Panel:
Often ceiling fans also have a wall control panel to reverse their direction. If your wall control is malfunctioning, it could also prevent you from changing your ceiling fan's direction.
Using a Wrong Sequence:
Ceiling fans might also rely on a specific sequence of the remote or the wall control panel to reverse their direction. For example, setting the fan to a specific speed and then turning it on or off in a specific sequence. If you use the wrong combination, it will not make your fan go in reverse.
These are some of the most prominent causes for which your ceiling fan won't reverse direction. But worry not, I have got you covered. These problems are easily solvable.
How to Fix a Fan Stuck in One Direction?
As seen above, there could be various sets of problems behind your fan being stuck in one direction. In most cases, however, the solutions are quite simple.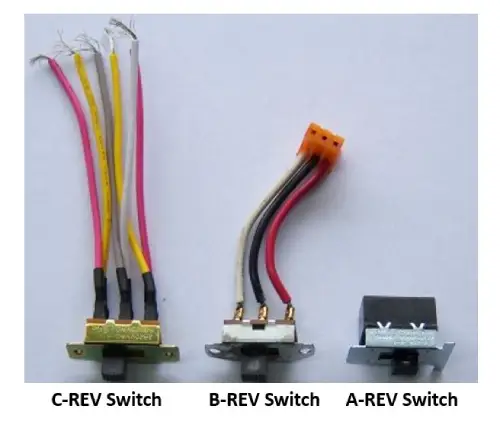 Broken Directional Switch:
As I have discussed above, a broken directional switch is the most common cause of a ceiling fan direction not reversing. The solution is to replace the switch.
Replacement switches are easily found. Make sure you buy a switch that matches your previous one. As different types of switches are available (Fig 3). It may be a daunting task if you are not familiar with electrical tasks. But if you have a bit of knowledge and experience, it can easily be done by yourself.
However, feel free to consult a professional if you are confused about the procedures.
Malfunctioning Remote:
A malfunctioning remote can oftentimes be easily fixed if it isn't broken. First, change the batteries of your remote. If that doesn't work, try checking if both the fan and the remote are working on the same frequency or not.
Some smart remoted allow a sync button, to auto allocate a unique sequence for your fan. Try resyncing your fan with your remote. An electrical surge can wipe the memory of your fan receiver. Resyncing will fix such an issue.
Broken Wall Control Panel:
Wall panels are easily replaceable. However, it requires quite a bit of electrical handiwork. If you have no previous experience of such type of job, please contact a professional. Basic wall controls usually come around $100 to $150. But if you want one with remote control, the price may rise to around $250.
Using a Wrong Sequence:
It's possible that your ceiling fan doesn't have a reverse switch or a remote to control it. However, using the fan's built-in sequence code, you can still reverse your ceiling fan.
A very common sequence code is as such. Set the fan to the slowest setting. You can do it with either a regulator or the pull chain. Continue to switch the fan on, off, and back on quickly. Check to see whether the blades of the fan have changed orientation.
But keep in mind, this is not universal. Your fan may have a different sequence. Check the manual to see which sequence is applicable for your specific model.
These are how you could easily fix some of the issues regarding your ceiling fan direction issues.
Summary
In this article, I have discussed some of the most common problems for which your ceiling fan won't reverse direction, as well as how to fix most of these problems.
I hope this article has helped you tackle any issue regarding changing your ceiling fan direction. However, if any issue persists, it is highly advised to consult a professional.