Harbor Breeze ceiling fans are well known in the interior design community due to their unique application of lightbulbs added to the ceiling fans. Now, if you own one of these fans, then knowing how to change light bulb in Harbor Breeze ceiling fan is a priority.
Unlike other ceiling fans with lights, Harbor Breeze ceiling fans have a unique LED flush mount design. And to change the lights on your Harbor Breeze fans then you will need to know how to remove LED flush mount ceiling fan with lights. Because the light has to be handled very carefully and delicately.
So, without further ado, let's take a look at the steps that you will need to follow in order to the light bulbs on your Harbor Breeze ceiling fan.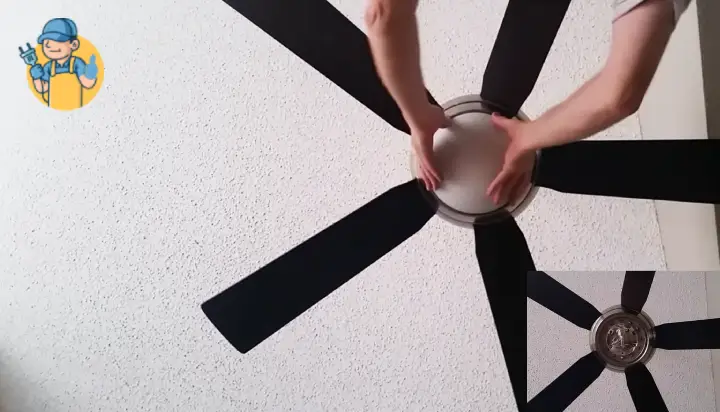 Change Harbor Breeze Ceiling Fan Light Bulbs: Step-by-Step
Here are the steps that you will need to follow if you want to successfully remove and attach the light bulbs on your Harbor Breeze ceiling fan:
Step 1: Make Sure Your Light Has Actually Burned Out
Most Harbor Breeze ceiling fan models come with a remote controller and is a dim setting that makes the light seem burned out, although it actually isn't. So, test your remote and turn on the light's brightness. If your fan doesn't light up, then follow the next steps.
Step 2: Turn off the electric connection to the Fan
At first, make sure that the fan is not connected to the electricity when you start the process of removing the bulbs. That being said, you will need electricity later to connect the fan. But this is the safest way so that you don't face any incidents.
There is also the option to manually turn off the lighting fixture, but that is very complicated. Not to mention if done wrong, can harm your fan or, worse, create a short circuit situation. So, just make sure that your fan's switch is turned off when you plan on changing the light bulbs.
Step 3: Take Your Fan Off the Ceiling or Get a Step Ladder
If you can already reach the lid or the globe that is protecting the light bulbs, then you can proceed to the nest. But if you don't, then make sure to take your fan off the ceiling so you can work on the lid or use a step ladder to reach the fan. We suggest using a step ladder as taking off a ceiling fan is quite a challenge for first-timers.
As one needs to be very careful to remove light kit from Harbor Breeze ceiling fan. It's better to have safer footing, and step ladders are the best in these situations.
But if you are planning to pull off the fan, then knowing how to fix hole in ceiling for light fixture can really come in handy. And if you want to change the fan position, then you should know how to remove recessed lighting clips.
Step 4: Removing the Light Cover on the Fan
Removing the light cover of a ceiling fan can seem difficult at first sight. That being said, the process is quite simple as it follows how most ceiling fans with light bulbs operate.
First, you grab the light cover with both of your hands and then place your thumbs on the middle of the cover and twist it to the left side or anti or reverse clockwise. The light cover will come off instantly. You might need to use a bit of force if the light cover feels stuck on the first try.
Don't worry about using force, as these light covers or protective globes are quite strong and can withstand a significant amount of force.
Once the light cover has come out, place it on a smooth surface. If it looks dirty, then clean it as it will make the light look brighter. You can check on our how to make ceiling fan brighter article for that.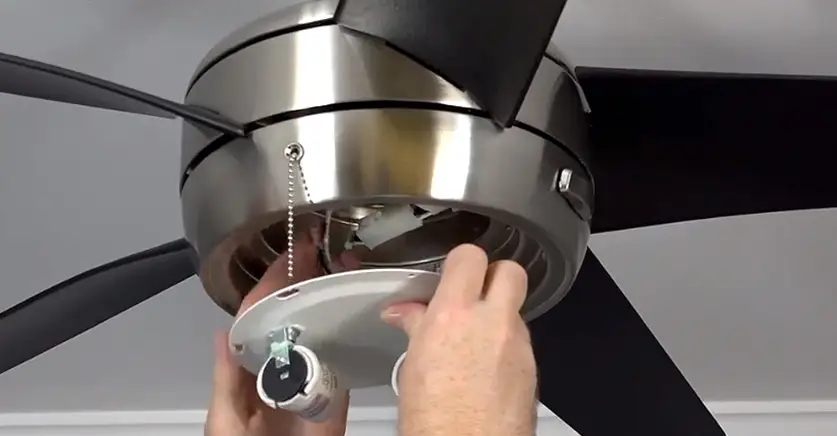 Step 5: Removing the Light Bulbs
After you have taken care of the light covers you will need to focus on removing the light bulbs. This task is very easy. You need to unscrew the bulbs from the bulb holder.
This can be done by just rotating them anticlockwise or pulling them off by using a minimal amount of strength. Look at your fan manual to make sure which process to use. You can also easily understand which method to use just by trying one of them at first.
Now don't confuse this section with the installation of the light bulb because you need to be extremely cautious about that. But because the light bulb in the fan is already dead, you don't need to be cautious removing it.
Step 6: Adding the Light Bulb
This is the biggest and the most difficult step on changing light bulbs in Harbor Breeze ceiling fans, especially if you are planning to change light bulb in Harbor Breeze Merrimack fan.
You need to use precaution when attaching the new light bulb because if it gets direct contact with your hand then it will absorb the oil and will start to burn out once it gets an electrical connection. So, it means that you will lose your bulb very fast. Also, they are very delicate, and once mishap can break these light bulbs.
So, grab a cloth or towel and attach the light bulb to the light bulb holder located in the middle of the fan. Attaching the bulb should be very easy. You will just need to screw it clockwise or on the right side.
Step 7: Reattaching the Light Cover
Now it's time to attach your light cover. Align the light cover with your fan, and then push the cover-up and twist towards the right side. You should hear a 'click' sound notifying you that you have successfully installed the cover.
Next, put one of your hands under the light cover and remove your other hand. If the light cover or the globe isn't attached properly, then you will feel that its weight is downwards. Meaning it isn't attached properly. But if you don't feel any downward pressure, then you have successfully attached the cover.
Step 8: Testing the Fan
Once you have installed the light cover and the light, connect the electricity to the fan and turn on the switch. If the lights get a connected move, then your work is done. But if not, then you might have misplaced the light.
Now your bulb might have been connected perfectly but is on dim light settings. So, grab your remote and turn up the brightness. Almost all the time Harbor Breeze ceiling fan users face this issue. So make sure to try this method first.
If there is any circuit malfunction issue on the fan then it can also short circuit the bulbs when connected. But even though that is possible, it is very rare to face an issue like that. If you come across this problem on your Harbor Breeze, then getting professional help is the safest bet.
And that's it. This is how you can change the light bulb on your Hamilton Bay ceiling fan.
Also Read: Flush Mount Vs Downrod Ceiling Fan!
Final Thoughts
Hopefully, this article helped you to find the answer regarding how to change light bulb in Harbor Breeze ceiling fan. So, be careful and best of luck.