There are two main types of ceiling fan: flush mount and downrod ceiling fan.
So, you might wonder which type of ceiling fan would better suit your home. In this guide on flush mount vs downrod ceiling fans, we will explore the pros and cons of both the ceiling fan so that you can make an informed decision.
So, keep on reading!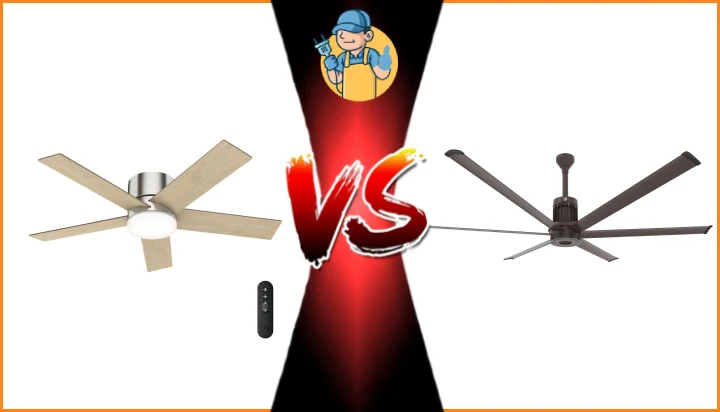 Flush Mount vs. Downrod Ceiling Fan
Both ceiling fans have a few distinctive qualities that set them apart. So, it only fits to wander, which is better- flush mount or downrod ceiling fan? Keep on reading to understand the nuances between flush mount and downrod ceiling fan.
Flush Mount Ceiling Fan
Flush mount ceiling fan is usually mounted on the ceiling and does not have a rod protruding from the motor. The minimum height to install a standard ceiling fan is 8-9 feet above the ground.
So, if the dimensions of your room do not allow for a standard fan, then a flush mount ceiling fan is the way to go. Thus, making it suitable for small spaces with low ceilings. Perhaps that is why it is called "low profile ceiling fans" or "hugger fans."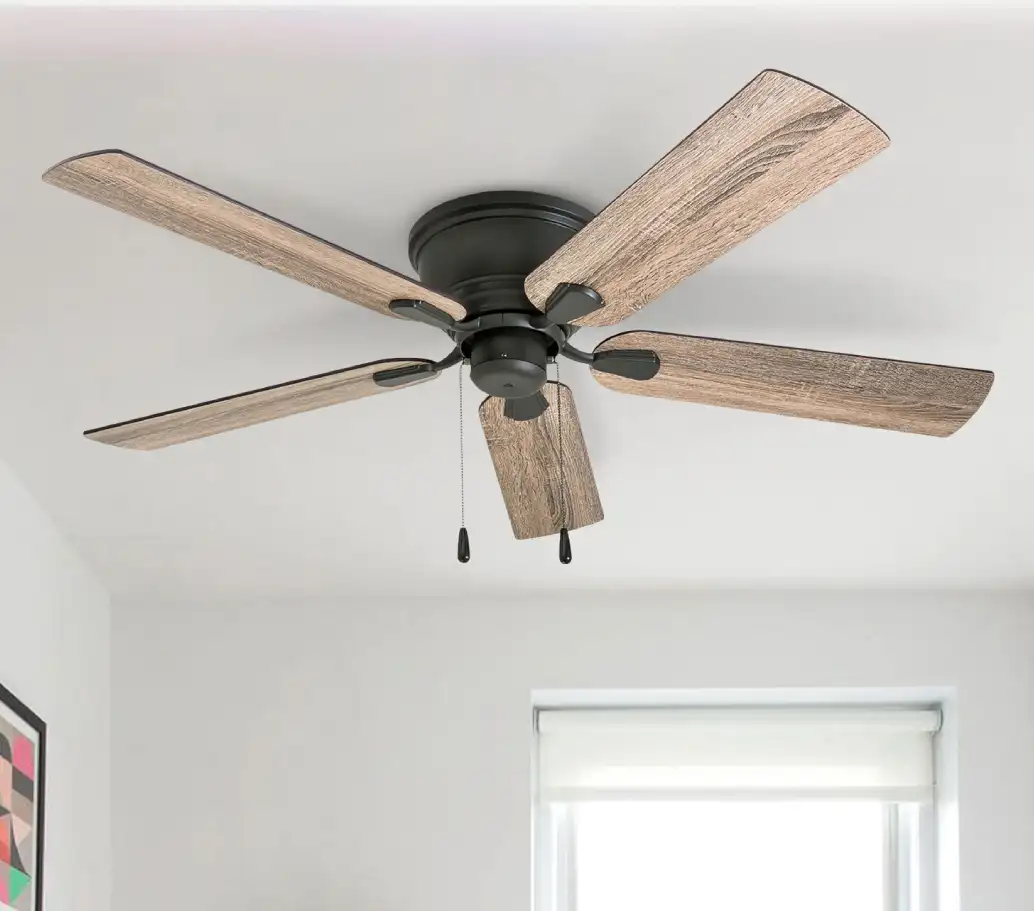 Advantages
As the flush mount ceiling fan takes up less space, it makes a room look more spacious. The flush mount ceiling fan is customizable and versatile. You can choose from different color so that it matches your aesthetic. Additionally, flush mount ceiling fans have light fixtures with a shade and can be remote-controlled too.
A flush mount ceiling fan with a remote is ideal, as it offers much flexibility. However, some of the customizable light fixtures come only in LED. Hence when in need of repairing, just twisting the shade to replace a bulb won't do. Instead, you have to know how to remove LED flush mount ceiling fan. It is quite straightforward to remove the LED light, so don't worry!
Disadvantages
These versatile ceiling fans might sound like a dream but are flush mount ceiling fans effective?
They are effective to an extent, but there is one downside of a flush mount ceiling fan. It moves less air around the room, which means that the rooms will not be as cool as those with standard ceiling fans. Hence, you might consider bringing a table fan if the room becomes too hot and an air conditioner is not accessible.
Downrod Ceiling Fan
The downrod ceiling fan is used in bigger rooms that are 8-9 feet tall. It hangs a little low from the ceiling as a metal rod is attached to its motors. It is not ideal for rooms with low ceilings, as that presents a safety hazard.
If not careful, children and adults alike can be hurt by the fast-moving blades of the fan.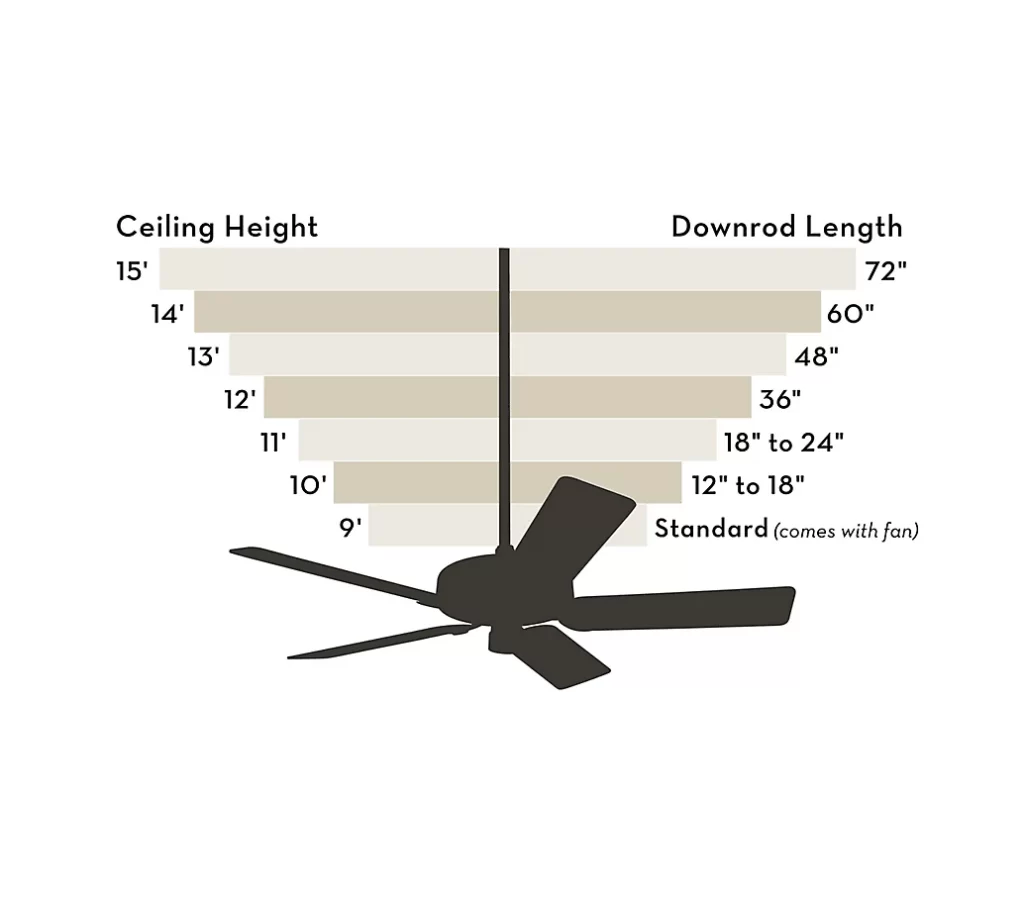 Advantages
The metal rod of the downrod ceiling fan makes the ceiling fan more stable and prevents the ceiling fan from wobbling too much. Additionally, you can further customize the downrod ceiling fan just like a flush mount ceiling fan.
You can add different light fixtures with various shades of different finishes. You can also make it remote-controlled or add a pull chain feature. Furthermore, it provides adequate airflow around the house, making it suitable for warm weather.
Disadvantages
The protruding metal rod can be an eyesore for some individuals. Also, it gives the appearance of a shorter ceiling. The noise from the fan can be off-putting too. Moreover, installing it can be challenging.
Verdict: Which is Better?
When it comes down to flush mount vs downrod ceiling fan, you have to consider the dimensions of your room.
A flush mount ceiling fan is ideal for houses with lower ceilings, although it doesn't provide sufficient airflow. But something is better than nothing, right!
However, if you have a higher ceiling, a downrod ceiling fan is practical as it allows for better air circulation, and the fan is less wobbly. Furthermore, you can add accessories like extra light fixtures in both flush mount and downrod ceiling.