Key Points:
It is necessary to properly identify the power sources of the room before attempting to install any lighting.
Installing a light in a location where there are no existing wires is more challenging than replacing an old one.
There can be various methods to add lighting without wiring depending on your budget and needs.
It is often times required to add lighting in a room but no wires are present to install a fixture. So, if you are trying to figure out how to add lighting to a room without wiring, look no further.
There are a few different methods to add figuring out how to install a wall light without existing wiring. These methods include installing LED puck lights, adding lampshades, string globe or fairy lights, cordless table lamps, wireless light bars etc.
In this article, I'll go over each of these methods to ensure that you have a complete understanding of them along with appropriate cost estimations.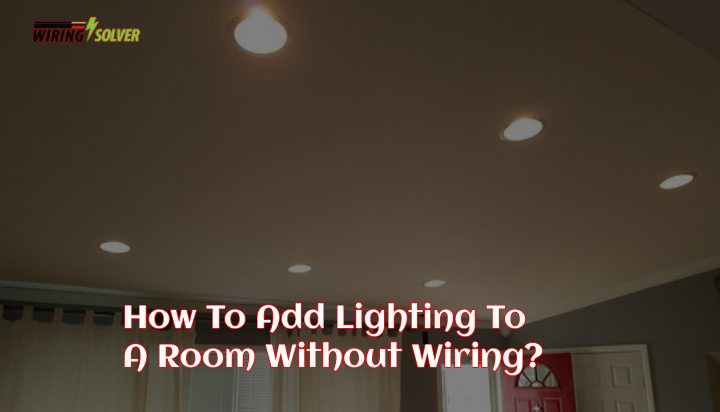 Adding Lighting to a Room Without Wiring
To know how to install a light fixture without existing wiring, take a look at the methods below:
Method 1: Installing LED Puck Lights
This technique is best for accent lighting only-bedside lights, a spot light for art, or a light that is mostly for decorative purposes.
Step 1: Acquire LED puck lights based on your budget, choice and in the amount that you require. They usually cost around $10 per piece.
Step 2: Clip off the excess material from the light fixture with wire cutters, or bind them up so that they are not in the way of the fixture mounting properly.
Step 3: If necessary, remove recessed lights from housing clips. Dry fit the junction box inside the base of the fixture to be sure that it will fit.
Step 4: If there are already holes in the base of the fixture, check to see that they will line up with holes in the junction box. If not, drill into the base of the fixture where holes will be needed.
Step 5: Mount the junction box on the wall, paying careful attention to which direction it needs to go in order to match up with the screw holes in the base of the light fixture.
Step 6: Glue the base of the tap light into the fixture wherever it will stick securely. Make sure when gluing that you will still able to unscrew the tap light to change batteries.
Step 7: Line up the screw holes in the electric plate and the base of the light fixture, and screw into place.
That's all there is to install a puck LED light without wiring. You could also connect multiple led lights to one switch if you wish to as well. If you were wondering, how do you install recessed lighting without wires? LED puck lights can also be used to serve such a purpose.
Method 2: Placing Lamps in the Room
This method is for more lighting in your room, specially the corners. So, if you were trying to figure out how to add lighting to a room without wiring, you can use lamps.
Step 1: Gather a lamp that has enough lumens that you require and complies with the power supply that you can provide.
Step 2: if your chosen location does not have an outlet, you can buy an extension to connect your lamp to.
Step 3: Connect your lamp to your outlet or receptacle and you should be done.
Step 4: Before you buy multiple lamps, try to get your track lighting load in residences calculated, as it can affect your utility bill.
This is one of the ways to know how to install a light fixture without existing wiring.
Method 3: Adding String Globe or Fairy Lights
String lights aren't just for Christmas. Used in the right way, they can provide pretty lighting through your home without looking overtly festive or childish.
Step 1: Use drawing pins to create a pattern on your wall or a flat board.
Step 2: Put the fairy lights around the drawing pins to make the design.
Step 3: Connect the input to an outlet or a battery.
Step 4: If you want to control them buy a wireless remote, you can invest in an adapter of such sort.
Step 5: You could also drape them around your furniture, or behind them to create an ambient lighting effect.
LED string lights are priced based on the type of LEDs you get, and the length you require. But it will usually cost around $10 up to $25.
Method 4: Cordless Table Lamps
Cordless table lamps can also provide your room with extra lighting that you require. They require no wiring whatsoever. But you will have to deal with recharging them after usage.
The price of these lamp can begin from $50 all the way up to upwards of $200. The price will vary based on the brand, light lumens, battery life, build quality etc.
They might be a bit on the costlier side, but you will have the added benefit of controlling them from anywhere in your room and no hassle of hiding wires.
Method 5: Installing Wireless LED Lights/Light Bars
Wireless LED bulbs or light bars come with the added benefit of controlling them anywhere, using your phone, even when you are outside. They often come with a hub that you have to connect with a router.
Step 1: Plug the hub into your router if your lights came with one.
Step 2: Screw the smart bulb into a light fixture and connect it to power.
Step 3: Download the companion app for your smart bulb.
Step 4: Add the smart bulb through to your Wi-Fi through the app.
Step 5: Set up timers or voice control if the feature is provided with it.
Smart/wireless LED bulbs are widely available these days. They will cost somewhere between $20 and $50 depending on the wattage and brand.
Summary
In this article I have discussed various methods on how to add lighting to a room without wiring in detail. This will act as a guide for any reader that wish to take on this task themselves. Consider the price and lighting requirements properly before choosing the method which will be perfect for your room.