If you've ever found yourself wondering how many things you can plug into a single outlet, you're not alone. It may be because you trying to save energy, reduce clutter, or simply don't have enough outlets in our homes.
The answer varies based on various elements. There are several factors to consider, including the type and size of the outlet, the power requirements of the devices to plug in, and even local building codes.
In this article, the factors of the procedure will be discussed thoroughly. Some tips and best practices for maximizing the use of outlets and minimizing the risk of overloading will also be offered.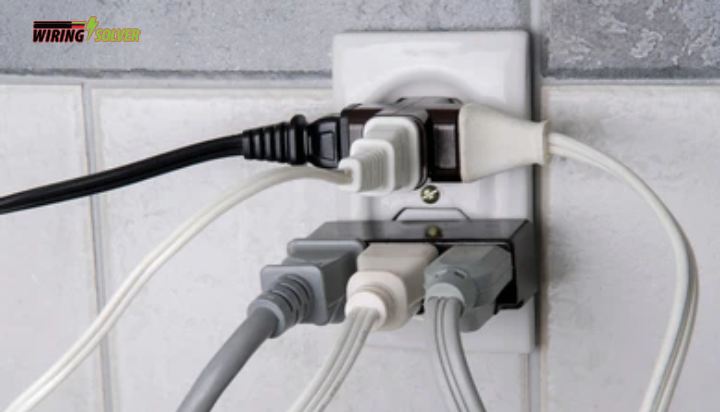 What is an Overloaded Outlet and How to Identify It?
A single circuit can have a limit on the amount of electricity or current it can handle. If anything more than the limit passes through that circuit or outlet, it gets overloaded.
Overloading is a major cause of fires. So it's crucial to avoid overloading outlets at all costs. There are a few telltale signs of an overloaded outlet that you should look out for.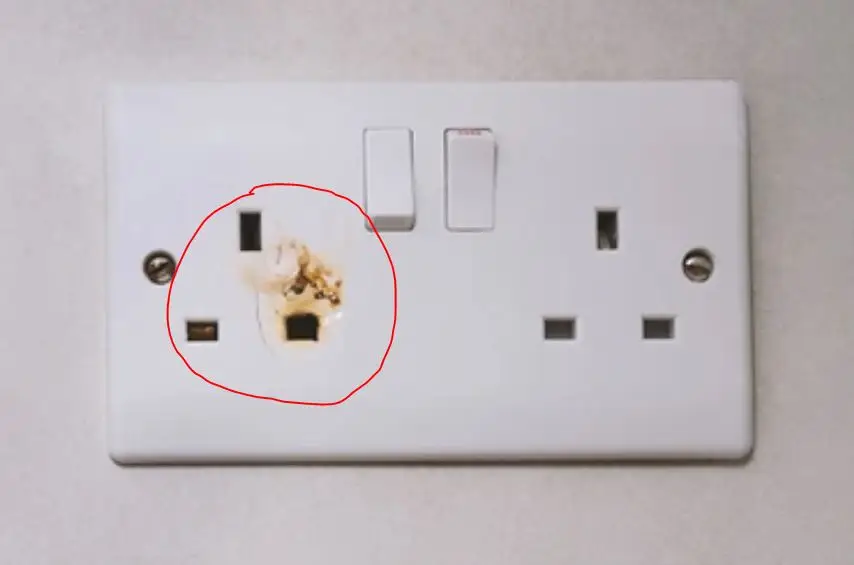 Signs of an Overloaded Outlet
The breaker supplying power to the outlet will continuously keep tripping.
If the appliances plugged in have a light bulb or if there are other bulbs on the same circuit, they will flicker often. Or turn dim.
Your outlet is slowly getting discolored.
A buzzing sound from the outlet or the switch.
If your circuits use fuses, the fuses will blow pretty frequently.
Burn marks on the face of the outlet. In some cases, you can also see signs of melting plastic (Fig 1).
The outlet is warm to the touch.
A faint burning scent will be emitted from the outlet.
The devices or appliances connected to the outlet have no power.
A mild sensation of electrical shock if you touch the appliances.
If you see any of these signs, quickly turn the outlet off, and remove any devices connected to it before further troubleshooting.
How to Troubleshoot an Overloaded Outlet
Here are the actions to take if you discover an overloaded outlet in your home:
Unplug any devices that are plugged into the overloaded outlet.
Check the wattage rating of the outlet. Most outlets have a rating of 15 or 20 amps, which means they can handle a certain amount of wattage.
If the wattage of the devices you have plugged in exceeds the outlet's rating, it can cause the outlet to become overloaded.
Check the wattage of each device that was plugged into the outlet. Add up the wattages to determine if they exceed the outlet's rating.
If they do, you will need to find a different outlet to use or consider using a power strip with its own circuit breaker to distribute the wattage more evenly.
Inspect the outlet for any visible signs of damage. If the outlet appears burnt or damaged in any way, it may need to be replaced.
You may need to reset the circuit breaker. Look for the circuit breaker that controls the outlet in question. Turn it off and then back on again to reset it.
If the outlet is still not working properly after resetting the circuit breaker, you may need to call a licensed electrician for further assistance.
How to Use an Outlet Properly and Avoid Overloading?
There is some exact etiquette to follow for using an outlet. Such as how many devices should you plug in, the use of extension cords, keeping the ratings in check, etc.
Especially in many older homes, the circuits are not properly equipped to deal with the high power demand of the latest appliances. And adding excess power demand by plugging a new device into an outlet can lead it to overload.
It also relies on the voltage level of your household. Too much current on one single circuit can also cause shortages and electrical fires; hence high wattage (over 1500 watts) is not suggested to be plugged in on one circuit. 
Depending on the volts rating, you can compute the maximum number of devices you can plug-in using the Ohms law formula. Where current equals power divided by voltage (I = W/V).
Most homes have 120 volts of power. If your appliance is rated for 500 watts, the device at 120 volts will produce around 4.1 amps of current. Here are some tips to prevent an outlet from being overloaded.
How to Avoid Overloading an Outlet
How many things can I plug into one outlet? Never plug in more than two devices in a single outlet.
Avoid plugging too many appliances in a single outlet. Especially, if they demand too much power. Such as refrigerators and ovens.
Use extension cords responsibly, and make sure to never exceed the rating for your outlet.
Create separate circuits and in turn separate outlets, if you have too many devices.
Be cautiously aware of the exact amperage rating of your breakers and fuses.
Summary
Overcrowding can lead to overloading and dangerous situations. By understanding outlet ratings, and power requirements, you can determine the maximum number of devices that can be safely plugged in.
Additionally, using outlets wisely and following best practices can help you make the most of your outlets without overcrowding them. You can ensure that your devices are powered safely and efficiently by following this article.