Key Points:
Different surge protectors come with different ratings and number of outlets.
Choosing a surge protector that is not compatible with your power supply can lead to problems.
APC and Belkin both provide top of the line surge protectors, but have their unique features that set them apart.
A conventional surge protector distributes electrical electricity to a number of devices hooked into the power strip via the outlet. The protector will channel any excess power into the outlet grounding wire if the voltage rises over the permitted threshold.
There are a variety of brands available in the market. Two of the most common brands are APC and Belkin. They each provide ample safety to your electrical devices. But however, they do differ in various aspects.
APC and Belkin are both great brands. But they differ in various aspects and key factors such as AC rating, protection rating, the inclusion of circuit breakers, number of outlets etc.
In this article, I will discuss in detail about the difference between APC vs Belkin surge protectors, and which one you should choose for your specific application and setup.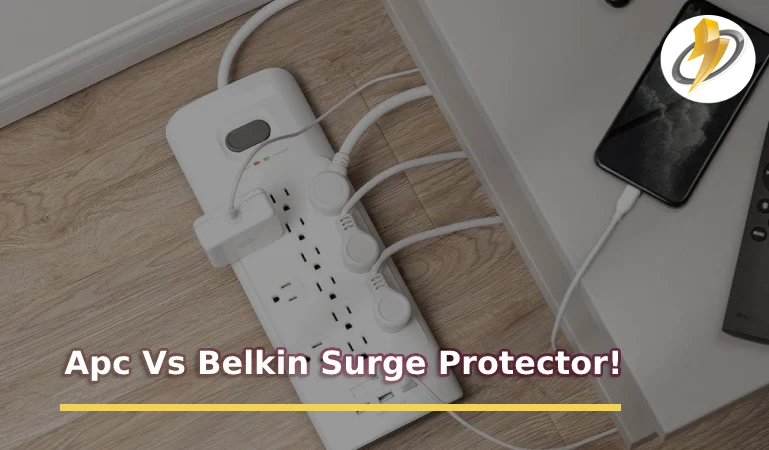 APC Surge Protectors
APC has 4 different series of surge protectors that come with their specific features and specifications. They all have their individual use cases and functionalities that set them apart from each other. Is APC a good surge protector? The user ratings agree.
SurgeArrest Performance Series:
Surge protection for professional computers, high-end electronics, and other sensitive equipment is provided by the APC SurgeArrest Performance series. This range of power strips offer the greatest joule rating and the most outlets. USB outlets, safety shudders, overload indications, and wire management are all included in the SurgeArrest Performance.
SurgeArrest Home/Office Series:
In the case of major electrical surges, the APC SurgeArrest Home/Office series delivers the highest level of surge protection for computers and other electronic equipment. Surge-protected power strips with phone line splitters safeguard communication lines, USB outlets, and transformer block spacing allow you to plug in devices without obstructing outlets.
SurgeArrest Essential Series:
Surge protection for computers and home equipment is provided by the APC SurgeArrest Essential series. These power strips provide the best value for money when it comes to surge protection for your gadgets. USB plugs for charging your mobile devices and LED indicators for simple status identification are key features.
ProtectNet Series:
Surges and spikes moving via unsecured data connections generate the bulk of surge-induced damage. Individual data lines, such as telephone and network lines, coax cables, and more, are protected by the ProtectNet series of stand-alone surge suppressors. Back-door surges may damage your productivity and cost you money if you install a ProtectNet surge suppressor in your data connection and link it to earth ground.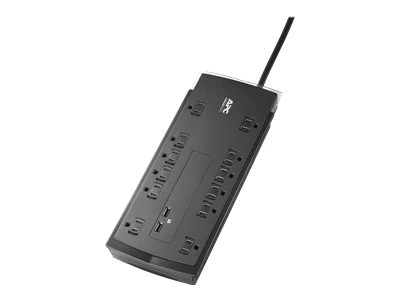 Highlighted Product:
What is the most reliable surge protector? The APC Performance SurgeArrest 12, model P12U2 (Fig-1), is the greatest surge protector or power strip according to a surplus of user reviews.
The device has a 4,320-joule protection rating, as well as 12 electrical outlets and two USB connections. Because the surge protector is thin and tiny, it may easily be hidden beneath media consoles or televisions.
However, in terms of Cyberpower vs APC surge protectors, the main glaring difference come in their number of outlets.
Belkin Surge Protectors
Belkin also has 3 different line of surge protectors available at the market. However, the distinction is not as clear as with the APC surge protectors. Is Belkin a good brand for surge protector? It is. But in terms of APC vs Belkin surge protectors, the debate is a bit lengthy.
Basic Series:
The Home Series protects the most basic household gadgets and appliances from surges. Average models cover 1,034 Joules, 19,500 Maximum Spike Amperage, 4-sockets, Phone/Modem/DSL protection, and a 2-meter power line. These models are also covered by an equipment warranty as well as two years of product warranty.
Home/Office Series:
Surge protectors in the Belkin Home/Office Series help safeguard workstations, printers, phones, home entertainment systems, and other ordinary household equipment. Surge protection of up to 3996 joules is provided by 12 grounded AC outlets, protecting sensitive electronic gadgets.
Travel Series:
These are compact and made to be fit for the road and on the go. They come in a small form factor so that they can easily fit in any size backpack that you might carry or as a wall mount surge protector. They don't provide a large number of outlets due to the small size. But in terms of protection, they do the job right.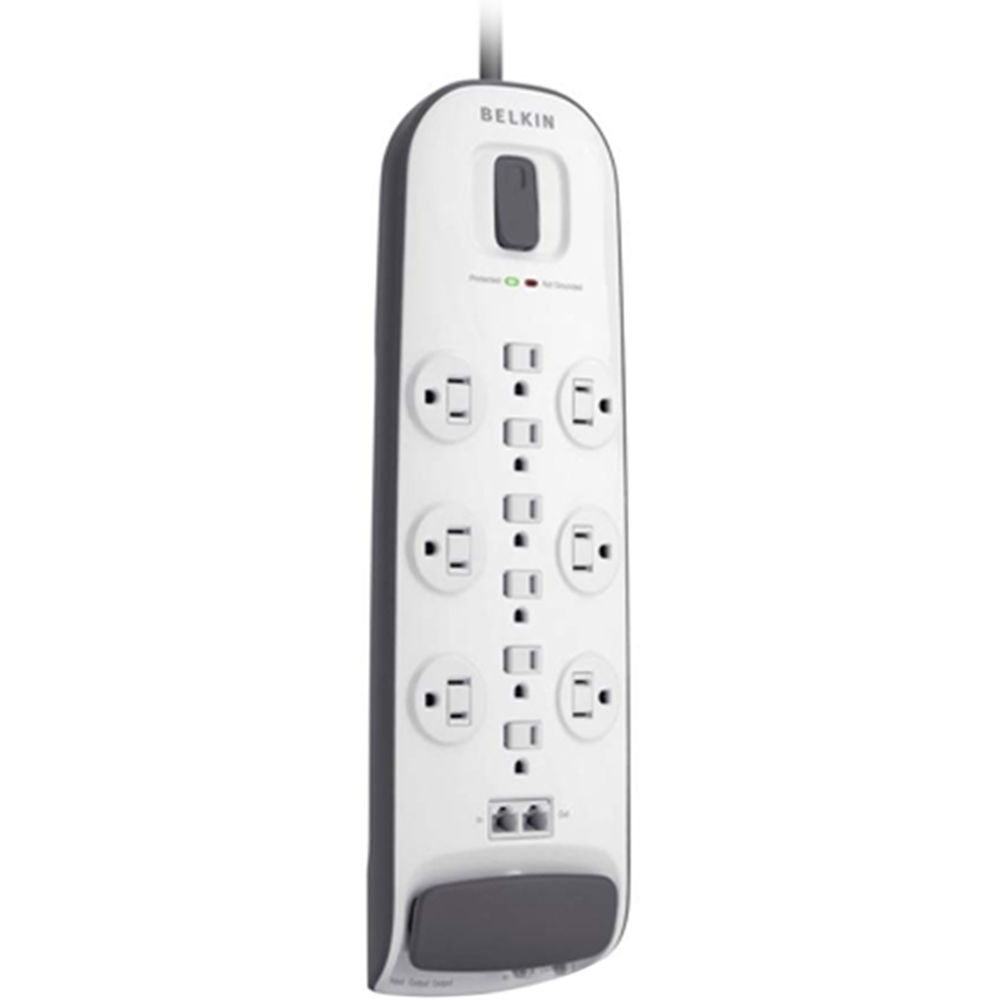 Highlighted Product:
Belkin's 12 Outlet Surge Protector, model BV12234-08, is a great product that offers plenty of protection, making it one of the finest surge protectors and power strips available. It matches the APC Performance SurgeArrest 12 with 12 outlets and two USB charging ports.
Differences Between APC Vs Belkin Surge Protectors
There are several key factors that distinguish an APC surge protector from a Belkin. They are displayed in the chart below. Let's take a look.
APC Vs Series Belkin Surge Protectors: Comparison
| | | |
| --- | --- | --- |
| Features | APC | Belkin |
| AC Rating | 120 Volts | 2 Nodes |
| Number of Outlets Offered | Starting from 10 Outlets up to 12 Outlets | Staring from 1 Outlet up to 12 Outlets |
| Circuit Breakers | Included | Not Included |
| Protection Rating | Up to 4,320 Joules | Up to 3940 Joules |
| Warranty | Provided | Provided |
| Cost | Starting from $6.50 up to $44.99 | Starting from $5.99 up to $49.99 |
Choosing an Appropriate Surge Protector
As different models and brands provide different levels and magnitudes of protection, you must take calculated decision based on the factors stated above to select an appropriate protector for your devices.
AC Rating: The average household supply voltage is around 120 Volts in the United States. Therefore, one must choose an appropriately rated surge protector. Choosing a surge protector that is not rated to be compatible with your supply can result in electrical hazards.
Number of Outlets: You must choose a surge protector that provides with enough outlets necessary for your devices and setup. The more outlets you require, the pricier your surge protector will be. Thus, you should choose a surge protector with enough outlets for your needs.
Current: In circuits with a series arrangement, the current is always the same. The current, on the other hand, is shared among the parallel connected devices.
Circuit Breakers: Surge protectors with circuit breakers are safer than the ones without breakers. Because in terms of any electrical malfunction the protector can shut the circuit down, preventing any damage or harm that might have come in the way of your electrical components.
Protection Rating: The more the protection rating of your surge protector, the more safety it will provide for your devices.
Warranty: It is always great to buy a product with a decent warranty period. As it gives you a peace of mind as well as support in any case the unit should fail.
Cost: Along with security, the cost is also a key factor to take into contribution. You have to choose a surge protector, that provides you with the safety that you need, within the budget that you have.
However, based on your needs, you might also opt for an UPS. There are certain differences between a UPS vs Surge Protector which will affect your choice.
There are also signs that help, when needing how to tell if a surge protector is bad. Such as, it gets hot after use, there are sparks during connection, has exposed wires etc.
Summary
In this article, I have gone over the key distinctions between APC vs Belkin surge protector along with their pros and cons and how to choose the right one for you.
Take into consideration the rating which is appropriate for your household and devices, along with the number of outlets you require. Choosing an appropriate surge protector helps you keep all of your devices safe and running without worrying about power surges.
References: