Surge protectors are a crucial piece of equipment for safeguarding electronic equipment against power surges, which can harm or even destroy it. In the surge protector industry, two of the top names are CyberPower and APC.
These surge protectors that are available, the amount of protection they provide, their design and practical features, and their overall value for money will all be taken into consideration in this comparison.
CyberPower vs APC surge protectors are renowned for their dependable performance. You will have a clear understanding of which brand is best for you and your electrical gadgets by the time this article is done.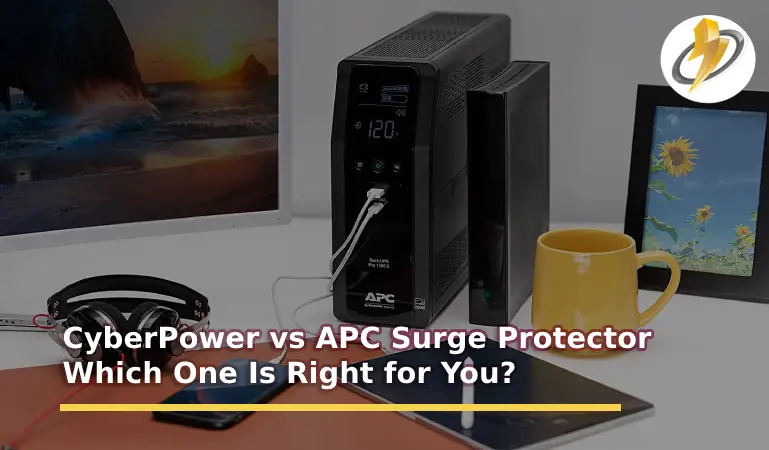 Key Features and Benefits of CyberPower and APC Surge Protectors
Here is a summary of key features and benefits of both CyberPower and APC surge protectors:
Multiple outlets: 
Many models of both CyberPower and APC surge protectors have multiple outlets, allowing you to protect multiple devices with a single surge protector.
USB ports: 
Some models of both CyberPower and APC surge protectors have USB ports, which can be used to charge devices such as smartphones and tablets.
Surge protection rating: 
Both CyberPower and APC surge protectors have a surge protection rating, which indicates the maximum amount of voltage they can handle before they start to degrade or fail.
A higher surge protection rating typically means better protection for your devices.
EMI/RFI noise filtering: 
Both CyberPower and APC surge protectors have built-in filters that can help to reduce electromagnetic interference (EMI) and radio frequency interference (RFI), which can cause problems such as static or noise on your devices.
Energy-saving features: 
Some models of both CyberPower and APC surge protectors have energy-saving features, such as a switch that allows you to turn off outlets when they are not in use, helping to save energy and reduce your power bill.
Durability and reliability: 
Both CyberPower and APC surge protectors are designed to be durable and reliable, with many models featuring a durable housing and components that are built to last.
Customer support and warranty options: 
Both CyberPower and APC offer a range of customer support options, including phone and email support, as well as a variety of warranty options to ensure that you are protected in the event of a problem with your surge protector.
Cable management: 
Some models of APC surge protectors have built-in cable management features, such as cable clips or a cord-wrapping system, to help keep cords organized and tidy.
CyberPower CP1500PFCLCD vs APC BR1500MS2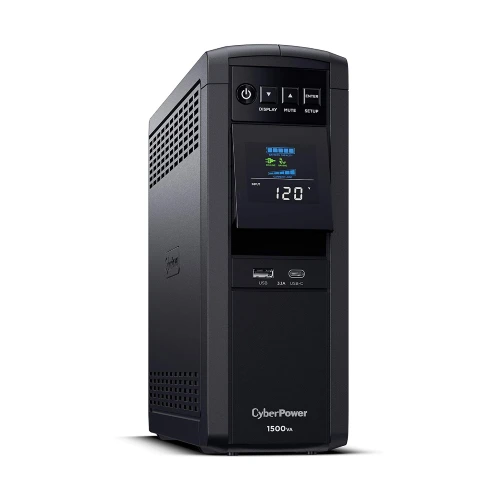 It is time to compare the most recent and popular surge protectors from the manufacturers.
Both CyberPower CP1500PFCLCD and APC BR1500MS2 are designed to provide battery backup power and surge protection. They come with the latest technologies the companies offer and have many similarities and distinct differences.
Design
The display of the CyberPower UPS can be tilted upwards so that you can see the updated information anytime you want.
The APC UPS, however, doesn't need to be tilted to let you see what's on the screen. This is because the upper portion of the device is lobbed off so that it becomes easy for you to see the display.
Even though the design pattern is a bit different, the two UPSs have almost the same weights. The APC one weighs around 28 pounds, while the CyberPower weighs about 25 Pounds.
Both the backup systems also offer a USB-A and USB-C port at the front of the body. The CyberPower includes 12 outlets in total where 6 of them are surge protected and the remaining 6 are battery backup outlets.
On the other hand, APC includes 10 outlets where only 4 of them are surge-protected outlets and the others are battery backup outlets.
Features and Functions
Both the CyberPower and APC power backup systems include an automatic voltage regulation (AVR) feature and an alarming system in cases when the voltage increases dramatically. There's even an option to mute the alarm if needed.
Both the UPSs also offer various functions, for example, fault detection, surge protection, and schedule function.
If you're using the systems with your personal computers, both of them allow you to attach the systems either through a wired connection or directly via a USB.
Because of the difference in power distribution, the running time at a full load is also different. Having two extra outlets, the CyberPower CP1500PFCLCD can operate up to 2.5 minutes under a full load with its full capacity.
On the other hand, the APC BR1500MS2 is capable of running up to 8 minutes under a full load having a lower load capacity than the other. 
Price
The price of the CyberPower CP1500PFCLCD and APC BR1500MS2 is also pretty close. They will cost you slightly over $200. Both the UPSs come with a 3-year warranty.
While the CyberPower provides a $500,000 guarantee for the connected devices, the APC provides $150,000.  Both the numbers show the reliability of the products.
Most of your household equipment shouldn't cost you more than any of the numbers. However, if you consider the devices to be used at offices or other heavy-duty applications, this might be worthy to consider.
| | | |
| --- | --- | --- |
| Remarks | CyberPower CP1500PFCLCD | APC BR1500MS2 |
| Battery Power | 1500VA / 1000W | 1500VA / 900W |
| Runtime (Full) | 2.5 minutes | 8 minutes |
| Sine Wave | Yes | Yes |
| Battery/Surge Outlet | 6/6 | 6/4 |
| LCD display | Yes | No |
| Automatic voltage regulation (AVR) | 3 modes (high, medium, low) | 1 mode |
| Battery life | Up to 5 years | Up to 3-5 years |
| Warranty | 3 years | 2 years |
| Price | Generally less expensive | Generally more expensive |
Choosing the Right Surge Protector for Your Needs: CyberPower vs. APC
A surge protector is an essential piece of equipment that helps shield your electronic equipment from sudden power, voltage swell, and other electrical problems that might interrupt or cause significant damage.
There are a few important elements to think about when selecting a surge protector, such as the amount of protection provided, the quantity of outlets, and the cost.
Surge protectors from CyberPower are renowned for being reasonably priced, dependable, and perfect for providing the bare minimum of surge protection.
You may select the model that best suits your needs from a variety the firm provides with various features and degrees of protection.
While providing a better level of protection against power surges and voltage spikes, APC is a more expensive brand.
They charge more for their surge protectors than CyberPower does, but they provide a higher level of security, making them an excellent option for anyone who need to safeguard more expensive or delicate electrical gadgets.
It's important to think carefully about your unique requirements and spending limit while choosing between CyberPower and APC surge protectors.
Summary
Reputable companies CyberPower and APC both sell premium surge protectors. Your particular demands and financial situation will ultimately determine which option is best for you.
APC might be better choice for you if you prefer a greater degree of security and are ready to spend a little bit extra. Before making a selection, it is crucial to analyze your needs and conduct comprehensive research.