High-voltage surges, power failures, or load shedding have been affecting electronic devices and their efficiencies from the very beginning. To fight against those, your sensitive electrical devices need an Uninterrupted Power Supply (UPS) system with the right specifications.
Presently, CyberPower and APC are the two market-leading UPS manufacturers that provide high-quality backup solutions for years. I'll be comparing these manufacturers and a pair of the most popular model from both of them to see which one's the real winner.
The article comes with a comparison between CyberPower VS APC surge protector and their most popular models. Let's get started!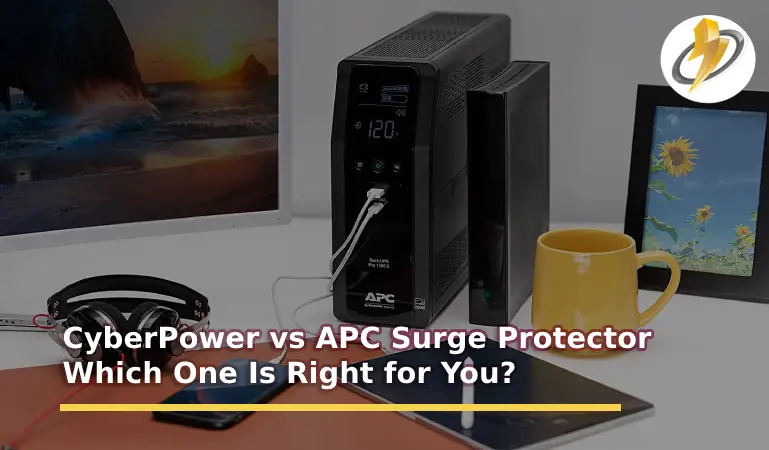 What is CyberPower?
CyberPower is a registered brand from the Cyber Power Systems (USA), Inc. It designs and produces heavy-duty industry-grade UPSs for both home and office use.
The company has been delivering different power solutions including professional-grade UPS, surge protectors, and power distribution units for several years that can be used both at home and office. CyberPower is determined to protect critical data and sensitive equipment from its beginning which is in 1997.
CyberPower also offers various award-winning products that include UPS systems, charging devices, inverters, gaming solutions, and many more.
What is APC?
APC stands for American Power Conversion Corporation which is a sub-brand of the popular Schneider Electric which is a French Multinational Corporation based in Rhode Island.
APC holds a leading position in the world of power backup supplies that produce different power backup and protection solutions for all sorts of electrical devices. It also is one of the biggest suppliers to the data center industry throughout the world.
Schneider Electric bought APC back in 2007 for almost $6.1 billion. Since then, especially, the best UPS surge protector company has grown a lot faster than previous. Its production line includes a wide range of power backup systems, surge protection, power conditioning systems, cooling equipment, and different computer accessories.
See the best UPS vs surge protector, if you're interested.
CyberPower vs APC Surge Protector: At A Glance
| | |
| --- | --- |
| CyberPower | APC |
| CyberPower is a brand of Cyber Power Systems (USA), Inc. based in Shakopee, Minnesota. | APC is a subsidiary of Schneider Electric based in Rhode Island. |
| The company started in 1997. | APC was owned by Schneider Electric in 2007. |
| The company has many award-winning products but lacks in variety as compared to APC. | It offers a wide range of products as compared to CyberPower. |
| Focused on manufacturing Smart App Sinewave UPS systems for critical applications. | Focused on manufacturing the most advanced power backup solutions for the most adverse conditions. |
CyberPower CP1500PFCLCD vs APC BR1500MS2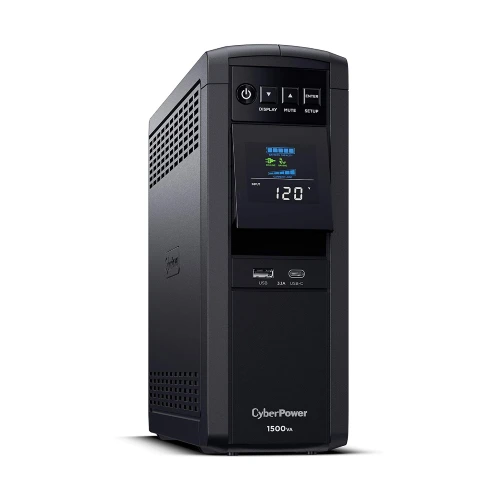 It is time to compare the most recent and popular Uninterrupted Power Supply (UPS) from the manufacturers.
Both CyberPower CP1500PFCLCD and APC BR1500MS2 are designed to provide battery backup power and surge protection. They come with the latest technologies the companies offer and have many similarities and distinct differences.
Design
While design pattern has never been an important issue for any UPS, both the power backup systems from CyberPower and APC come with various innovative design choices to make them easy to use.
The design aesthetic starts with the front-facing LED panels to show you the load of the UPS, battery percentage, and the input voltage.  
However, there's a key difference here between these two UPSs. The display of the CyberPower UPS can be tilted upwards so that you can see the updated information anytime you want.
The APC UPS, however, doesn't need to be tilted to let you see what's on the screen. This is because the upper portion of the device is lobbed off so that it becomes easy for you to see the display.
Even though the design pattern is a bit different, the two UPSs have almost the same weights. If you go by the numbers, the APC one weighs around 28 pounds, while the CyberPower weighs about 25 Pounds.
Both the backup systems also offer a USB-A and USB-C port at the front of the body to allow you to charge your mobile devices charged in case of any emergency.
The most distinct difference between these models is the number of outlets they come with. The CyberPower includes 12 outlets in total where 6 of them are surge protected and the remaining 6 are battery backup outlets.
On the other hand, APC includes 10 outlets where only 4 of them are surge-protected outlets and the others are battery backup outlets.
If you consider the length of the cable they include, the APC UPS's one is slightly longer which is 6 ft. The CyberPower one is about 5 ft long.
Both of them come with an ample amount of cable and the difference hardly matters. 
Features and Functions
Both the CyberPower and APC power backup systems include an automatic voltage regulation (AVR) feature and an alarming system in cases when the voltage increases dramatically. There's even an option to mute the alarm if needed.
Both the UPSs also offer various functions, for example, fault detection, surge protection, and schedule function.
 If you're using the systems with your personal computers, both of them allow you to attach the systems either through a wired connection or directly via a USB.
Because of the difference in power distribution, the running time at a full load is also different. Having two extra outlets, the CyberPower CP1500PFCLCD can operate up to 2.5 minutes under a full load with its full capacity.
On the other hand, the APC BR1500MS2 is capable of running up to 8 minutes under a full load having a lower load capacity than the other.
Price
The price of the CyberPower CP1500PFCLCD and APC BR1500MS2 is also pretty close. They will cost you slightly over $200. Both the UPSs come with a 3-year warranty. While the CyberPower provides a $500,000 guarantee for the connected devices, the APC provides $150,000. 
Both the numbers show the reliability of the products. Most of your household equipment shouldn't cost you more than any of the numbers. However, if you consider the devices to be used at offices or other heavy-duty applications, this might be worthy to consider.
| | | |
| --- | --- | --- |
| Remarks | CyberPower CP1500PFCLCD | APC BR1500MS2 |
| Battery Power | 1500VA / 1000W | 1500VA / 900W |
| Runtime (Full) | 2.5 minutes | 8 minutes |
| Sine Wave | Yes | Yes |
| Battery/Surge Outlet | 6/6 | 6/4 |
| Voltage Regulation | Yes | Yes |
Which UPS to Choose?
The CyberPower UPS is equipped with two additional Ethernet ports for positioning in a management card remotely. This lets you monitor and control the device remotely when you aren't right beside it.
The APC UPS offers a co-axial connection for ensuring surge protection to your cable modem.
Depending on the difference and priorities, you can choose any of the models. Both of the devices offer pretty much the same features, functions, and price. Both of them are very reliable as well.
Do you know what's power conditioner and surge protector and their differences? Well, you may be interested in Power conditioner vs surge protector.
Frequently Asked Questions (FAQs)
1. Is APC better than CyberPower?
Both APC and CyberPower manufacture high-quality power backup devices. It is hard to decide which one's the best. While APC has been a world-leading power backup equipment supplier, the CyberPower is continuously growing better than ever.
2. How long does APC battery last?
Most APC batteries last around three to five years. However, the timeline varies depending on the usage, environment, and number of charges and discharges.
3. How long do CyberPower batteries last?
Typically, a CyberPower battery lasts for three to four years depending on its usage.
4. How do I know if my APC battery is bad?
Most battery backup systems come with low battery alarms either a sounding alarm or an indicator light. The devices always run self-tests periodically. When the battery gets low and needs replacement, it will let you know through the alarm.
Conclusion
The article comes to an end here. It's hard to determine which UPS wins between CyberPower VS APC surge protector as they both provide premium features and functions.
However, if you're planning to use the surge protecting device commercially, I'd recommend going for the CyberPower CP1500PFCLCD and if you use the device for personal use, APC BR1500MS2 would be a great choice.