A non-contact voltage tester is the simplest tool to measure whether there's any voltage present before falling into danger. It is a tiny handy device yet very important, especially to professional electricians. So, what's the best non contact voltage tester? How to find the best one?
Non-contact voltage testers come in different sizes and shapes, but the best one will give you both visual and audible signals if it finds any voltage to keep you safe. The best one also should offer you the same safety features. Based on my research, the Fluke 1AC-A1-II VoltAlert voltage tester meets all requirements to be the best one.
There're more non-contact voltage testers on my list that I'll discuss in this article with buying guide.
Let's get started!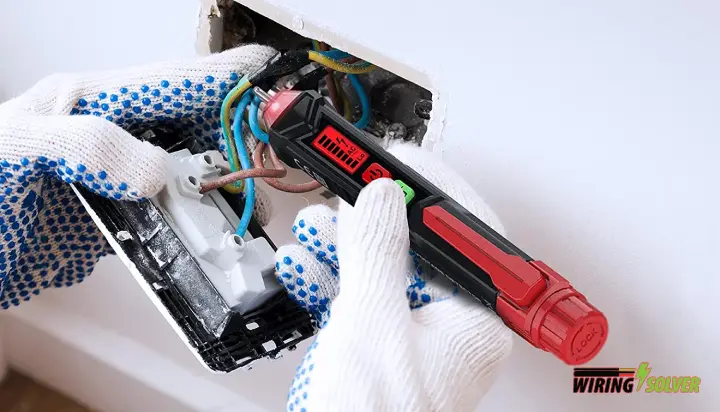 Before starting with the detailed review, let's have a short look at the non-contact voltage testers that'll be discussed below:
Best Overall: Fluke 1AC-A1-II VoltAlert
Best Bang for the Buck: KAIWEETS Non-Contact Voltage Tester
Best high-performance voltage tester: Klein Tools Dual Range Voltage Tester
Best voltage tester with large display: BSIDE Dual Range Voltage Tester
Best voltage tester with GFCI Receptacle Tester: Klein Contactless Voltage Tester
How Does A Non-Contact Voltage Tester Work?
Well, many people are confused about how a non-contact voltage tester works. Basically, it contains a sensor in its tip that looks for if there is any electricity in a conductor such as a wire or a power outlet.
If there's a voltage present within the conductor, the voltage tester will let you know with its visual indicator which is mostly an LED light.
Some testers also come with a buzzer that produces sound when detects electricity.
A non contact voltage tester detects the magnetic field produced by the alternating current passing through the conductor.
The magnetic field passes through insulation and plastic. An NCVT uses this to detect electricity even at a distance.
As you don't have to touch the wires or power outlets directly to measure voltage, non-contact voltage sensors are the safest tools to check electricity.
The Best Non-Contact Voltage Testers We Like in 2022
After reviewing multiple voltage testers and going through numerous expert opinions, I conclude with the following non-contact voltage testers. Each of the products is capable to meet your need.
Let's continue with the in-depth review of each product.
1. Fluke 1AC-A1-II VoltAlert Non-Contact Voltage Tester
Key Features
Weight: 0.21 lbs
Voltage Range: 90 V AC to 1000 V AC
CAT Rating: IV
Light Source: LED
Warranty: 2 years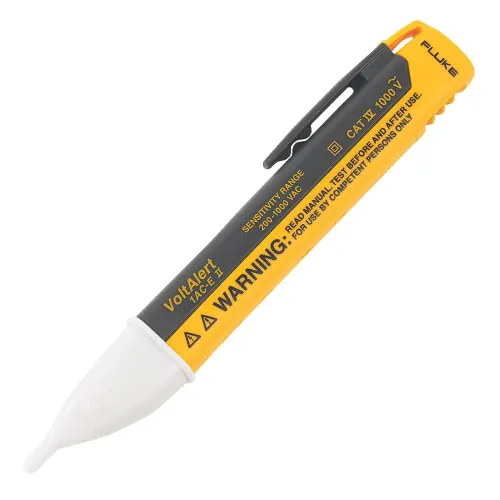 The non-contact voltage tester comes with an integrated Voltbeat technology that allows the tester to self-test itself and lets you know when it's ready for work.
The tester includes most of the features you need from an NCVT.
Highly Sensitive
The tester is highly sensitive and provides feedback instantly when it detects any voltage on the connection.
The high-intensity red LED lights up quickly and produces beep noises to give you a signal that there's current running through the point.
If you want to work in a quiet environment or if it's night and you don't want the device to produce noise, you can disable the beeper as well.
Voltbeat Technology
Integrating the Voltbeat technology, the tester continuously tests itself so you know when it's working. When the tip of the pen turns red, it indicates that the tester is working.
Wide Voltage Detection Range
The best non contact voltage tester for electricians features a wide voltage detection range starting from 90V to 1000V AC to be used in a variety of applications.
It is also available in a low voltage model which ranges from 20V to 90V AC to control circuits.
The best voltage tester for electricians is also CE and CSA approved for safety.
Pros
Excellent feedback mechanism
Integrated Voltbeat technology
Comes with batteries (included)
Cons
Changing batteries is difficult
2. KAIWEETS Non-Contact Voltage Tester with Dual Range AC
Key Features
Weight: 0.13 lbs
Voltage Range: 12-1000V AC / 48-1000V AC
CAT Rating: III
Light Source: LED
Warranty: 3 years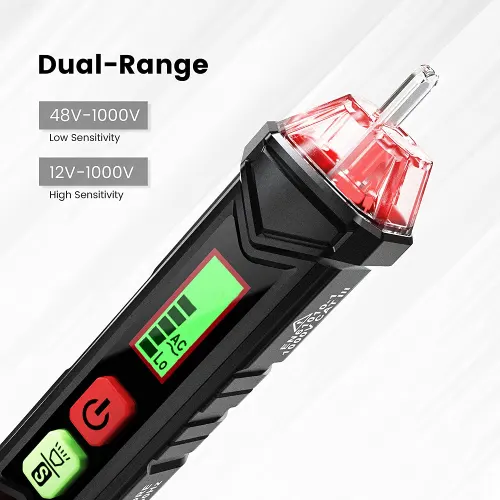 If you're looking for a dual-range voltage tester that would detect both high and low ampere currents, this is the one. The tester comes with a pretty good price as well.
Adjustable Sensitivity
The dual range voltage tester comes with an adjustable sensitivity feature. The LCD turns green for 12V-48V AC and turns red for 48V-1000V AC at low sensitivity mode.
On the other hand, the red tip illuminates continuously for 12V-48V AC and the screen turns red for 48V-1000V AC at high sensitivity mode.
Dual Range
The tester detects both high and low voltages for highly sensitive usage. You have to press the "S" button to adjust sensitivity and the voltage sensor automatically detects the voltage and displays it on the graph.  
Variety Wire Testing
The tester gives different indications for detecting null and live wire. It flashes with a red light slowly and the LCD turns green when it tests a null wire.
The buzzer gives a warning when it comes close to a live wire but flashes with red light quickly and the LCD turns red.  
Pros
Compact and pocket-sized design
Adjustable sensitivity
Neon lights indicate AC and DC voltages
Cons
Build quality isn't pretty good
3. Klein Tools Dual Range Voltage Tester with Receptacle Tester
Key Features
Weight: 0.1 lbs
Voltage Range: 12-1000V AC / 70-1000V AC
CAT Rating: IV
Light Source: LED
Warranty: 2 years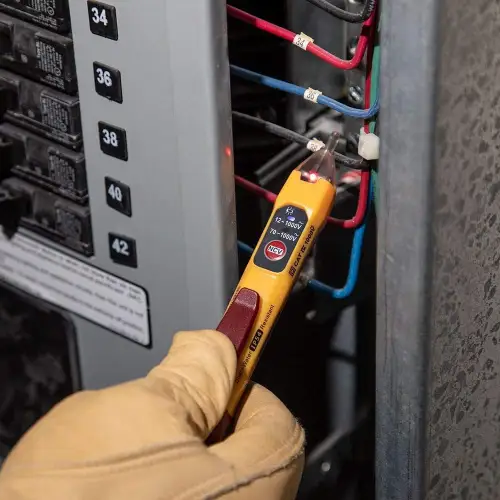 This voltage detector allows broad application by sensing dual range. Easy to read display, separate LED flashlight, intuitive controls, etc. helpful features come along to guarantee you a safe and reliable voltage detection.
Dual Mode
It can identify electricity flow effectively in both low (12-48V AC) and standard voltage (48-1000V AC).
So, from less powerful electric wiring like a doorbell, thermostats to the house wiring. It can effectively detect the voltage without any misreading.
Receptacle Tester
Not only a non-contact voltage detector but also Klein provides a receptacle tester which is designed to detect the most common wiring issues in regular receptacles.
Therefore, you can easily find out the correctness of wiring by sensing open ground, reverse polarity, open hot, open neutral, hot/ground reversed, and more.
Bright Display
Unlike some cheap non-contact voltage readers, it comes along with a clear display. So, reading the electrical measurements will be hassle-free for the electricians.
Individual Flashlight
This feature might not seem much big, but I find it quite useful. I'll tell you why.
Mostly voltage testers are used in places where the presence of light is less.
So, a separate flashlight will be handy for electricians working in low lights or basements.
Pros
Two power testing settings
The pocket clip ensures convenient storage and quick access
Clear LCD display
Separate flashlight to illuminate dark spaces
Cons
Might give false positives due to its extra sensitivity
4. BSIDE Voltage Tester, EBTN LCD 3-Line Display Voltage Detector
Key Features
Weight: 0.43 lbs
Voltage Range: 6-1000V AC / 90-1000V AC
CAT Rating: N/A
Light Source: LED
Warranty: 2 years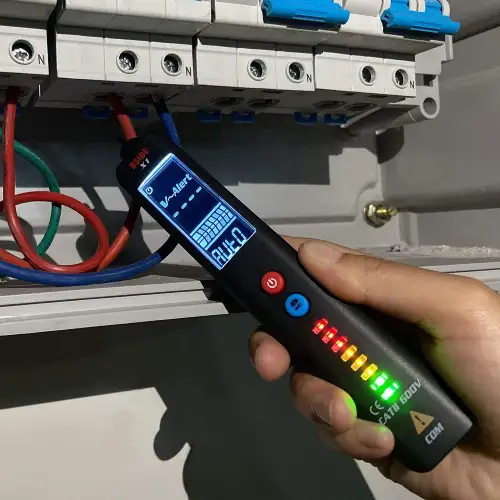 To make your electrical power sensing quicker and easier BSIDE has brought to you this sensor pen with a super large display.
An integrated multimeter has made it smaller to fit in your pocket but effective enough to tell you the electrical readings fast and accurately.
Advanced EBTN display technology
Thanks to BSIDE for adopting this latest EBTN technology, the sensor pen shows illuminated numbers and letters in front of a black background.
This is why you can easily read the electrical measurements even in sunlight and dark workspaces.
Three Line Display
Users appreciated its high-resolution large screen which is incorporated with a triple line display. As a result, the electrician's reading experience will be better than ever.
Wondering why?
They will be able to see 3 test results on the screen – the voltage, frequency, and analog bar. On top of that, there are 8 LED indicators in 3 different colors, making it super easy to learn the identified voltage strength.
Integrated Multimeter
BSIDE included a multimeter in their voltage detector for expanding its testing applications further. Moreover, integrating it into the sensor, makes it small enough to fit in the pocket.
So, it's lightweight yet super effective tool to carry around for the electricians.
Pros
Advanced EBTN technology for easy readout
Triple line LCD display
Accurate electrical readings
Protective case for convenient storage
Cons
The display disappears in bright sunlight
5. Klein Contactless Voltage Tester with GFCI Receptacle Tester with LCD and Flashlight
Key Features
Weight: 0.62 lbs
Voltage Range: 12-1000V AC / 70-1000V AC
CAT Rating: IV
Light Source: LED
Warranty: 2 years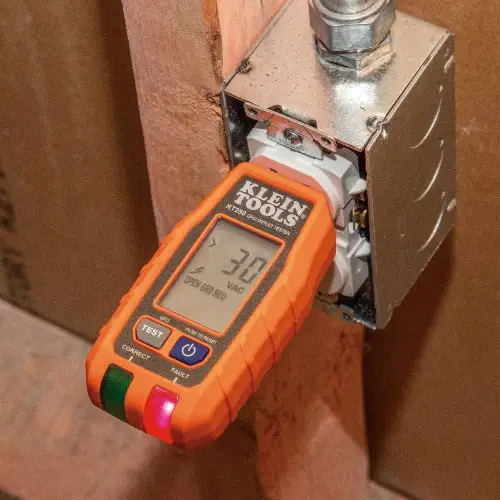 We have another amazing non-contact sensor pen from Klein in our list if the previous one hasn't met your requirement. This one comes with a GFCI receptacle tester to identify wiring problems in GFCI devices.
Like the above-mentioned one, this power reader comes with a pocket clip, making it super convenient to keep in the pocket and quicker to access from there.
Broad Application
It can accurately identify standard voltage in outlets, wires, circuit breakers, lighting fixtures, switches, cables, and cords.
On top of that, due to its dual-mode power settings, it can also sense low voltage in the doorbell, thermostat, etc electrical devices that use less power.
So, this is how NCVT3P supports a wider application for low to standard electrical power measurements.
GFCI Receptacle Tester
The non contact voltage tester with display comes with a GFCI receptacle tester, featuring a large backlit LCD readout of voltage, and a clear indication of wiring conditions at an electrical outlet.
The LCD readout displays the voltage, identifies the wiring problems, the time needed to trip a GFCI device.
Convenience
It enhances the voltage detecting experience with simultaneous visual and audible power indicators.
Like the aforementioned one from Klein, you are getting a bright flashlight for illuminating the work area.
Moreover, it can be used independently of the voltage sensing function.
So, overall, it's a lightweight yet compact voltage tester with LCD and flashlight, a nice addition for every electrician's collection.
Pros
Supports wider application with dual-mode
Flashlight to brighten up the work area
Pocket clip for easy access
Large LCD display
Cons
A longer press is needed on power button to turn it on.
---
What to Look for When Buying the Best Voltage Tester
While choosing a non-contact voltage tester, it is important to pick the best one for you as only the best one ensures that you're completely safe while working.
Well, I've already discussed some of the products above that give you the maximum protection.
However, if you want to explore more, here's a detailed buying guide that will help you find the right one.
Voltage Range
This is the first factor to consider while buying a voltage tester. Usually, all voltage testers have a distinct voltage range that they can measure.
There are testers that range from 48V to 1000V AC. Also, you'll find testers having a range between 12V to 1000V AC.
Out of these two types of testers, I recommend the later one as this type of tester has a significantly large range that allows you to get more readings.
Safety Features
As you're dealing with high voltages, safety should be the main concern of yours. The safety-certified non-contact voltage tester keeps you worry-free from getting electrocuted accidentally.
The safety of the non-contact voltage testers and other electrical testing equipment is classified in different ranks starting from CAT I to CAT IV.
The CAT IV is the safest option. And, when it comes to choosing a non-contact voltage tester, you shouldn't look for anything less than CAT III.
It is also important to check the maximum voltage that the tester can deal with. If you see an NCVT with CAT III 1000V safety rating, it means that the device can safely test and deal with voltages up to 1000V.
Most households in the US have voltages around 120V, while the three-phase voltages may be up to 400 volts. Most NCVTs have a safety range up to 600V to 1000V.
Build-Quality
A non-contact voltage tester is built to last so that it serves you for years to come. If you see the following features within a tester, it should be durable enough last long.
Water-resistant housing
Many a time you may need to test voltages outside and if there's a rain out there, you are surely in danger. We all know that water and electricity are like long-time enemies.
If the NCVT comes with water-resistant housing, it will keep you and the device safe for a long time.
Dust-tight housing
The NCVT should not allow dust to hinder inside its body that will disable its capability with time.
Drop test rating
It's likely to work with the tester at different heights. And, it is also very likely to drop any time of its lifetime. A drop test rating will keep you assured surely.
Sensitivity
Some NCVTs come with a fixed sensitivity, while some of them offer an adjustable sensitivity feature that lets you fine-tune the electrical device.
This adjustable sensitivity allows you to get rid of false signals and also makes the device capable to detect the voltage you want it to determine.
Functionality
This is a common rule that the more feature a product comes with, the more functional it is. A non-contact voltage tester may offer numerous features such as an LED flashlight, pointer, voltage signal indicator, vibrating function, battery indicator, and many more.
Frequently Asked Questions (FAQs)
1. What is a non-contact voltage tester used for?
A non-contact voltage tester is used to detect voltage in different situations, for example, when working on electrical wiring, changing light bulbs or fans, checking circuit breakers or meters, and many more.
2. Is a voltage tester the same as a multimeter?
Even though both voltage tester and multimeter determine voltage, there's a distinct difference between these two devices.
A non contact voltage tester only determines the voltage of an electrical device without touching the outlet which goes with the name.
On the other hand, multimeters are more complicated and capable of measuring AC and DC voltages, capacitance, frequency, resistance.
3. Are NCVTs safe to use?
Yes, non-contact voltage testers are very safe to use. If you are using a tester that is properly insulated and has no exposed metal part, it would not shock you. However, if the NCVT is damaged by any means, it is better to replace the device.
4. Can a voltage tester shock you?
If you use a voltage tester that is properly insulated, it should not shock you. Make sure the tester does not have any metal parts exposed.
It is because you don't want to put your hand in something that causes current to flow through your body.
A non-contact voltage tester may shock you only if it is structurally faulty.
Conclusion
So, that is all for today!
To stay safe while working on an electrical project, you should have a non-contact voltage tester. Based on my research, I found the Fluke 1AC-A1-II VoltAlert voltage tester as the best non contact voltage tester, even though all of the testers on my list are pretty good to serve you. Now, the choice is yours to make!
I hope you liked the article and if so, don't forget to share it with your friends and family.
Thank you.