Ceiling fans are an essential part of many homes, providing comfort, style, and energy efficiency. Among the numerous brands available in the market, Hampton Bay stands out due to its high-quality products and affordable prices.
In this article, we will explore the origins of Hampton Bay ceiling fans and discover who is responsible for their production.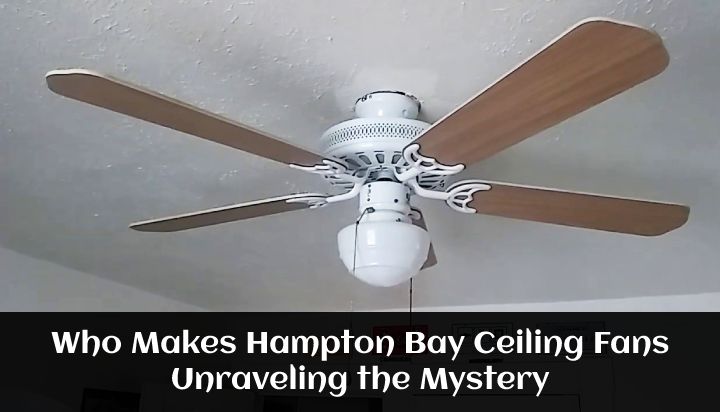 Hampton Bay: The Brand
Hampton Bay has been a trusted name in home improvement products for many years. The brand is known for offering a wide range of ceiling fan models, from classic to contemporary designs, to suit various tastes and budgets.
Hampton Bay ceiling fans come with a variety of features, such as remote controls, LED lighting, and energy-efficient motors, making them a popular choice for homeowners.
Who Makes Hampton Bay Ceiling Fans
The Home Depot Connection
Many people may not realize that Hampton Bay is an exclusive brand of The Home Depot. This means that the home improvement giant is responsible for managing and marketing the Hampton Bay product line.
The close relationship between the two companies ensures that Hampton Bay ceiling fans are easily accessible to customers and are backed by the reputation of The Home Depot.
Original Equipment Manufacturers (OEMs)
Hampton Bay ceiling fans are not manufactured by The Home Depot directly. Instead, they are produced by Original Equipment Manufacturers (OEMs) who specialize in creating various products under different brand names. These OEMs work closely with The Home Depot to design and manufacture ceiling fans that meet the Hampton Bay brand's quality standards. Some well-known OEMs that produce Hampton Bay ceiling fans include King of Fans and Minka Group.
Quality and Standards of Hampton Bay Ceiling Fans
Manufacturing Process
The production of Hampton Bay ceiling fans involves a meticulous selection of materials and a strict assembly process. High-quality components are chosen to ensure the fans' longevity, while quality control measures are put in place throughout the manufacturing process to maintain the brand's reputation for excellence.
Safety Certifications and Standards
Hampton Bay ceiling fans adhere to various safety certifications and standards, including the UL Listing and ENERGY STAR certification. These certifications ensure that the fans are safe for use and meet specific energy efficiency requirements. Compliance with these standards also guarantees that customers receive a reliable, high-quality product.
Hampton Bay Ceiling Fan Warranty and Customer Support
Warranty Details
Hampton Bay offers a limited warranty on its ceiling fans, which typically covers defects in materials and workmanship for a specified period. The warranty period varies depending on the fan model, but it generally ranges from one to five years.
Customer Support Options
Hampton Bay customers can access support through The Home Depot's customer service channels, including in-store assistance, phone support, and online resources. Comprehensive troubleshooting guides and installation manuals are also available online to help customers with common issues and inquiries.
Alternatives to Hampton Bay Ceiling Fans
Comparison of Popular Ceiling Fan Brands
While Hampton Bay is a popular choice, there are other ceiling fan brands to consider when making a purchase. Some of the top competitors include Hunter, Casablanca, and Minka-Aire. Each brand offers a unique set of features, designs, and price points, making it essential for customers to research and compare before making a decision.
Factors to Consider When Choosing a Ceiling Fan Brand
When selecting a ceiling fan brand, buyers should consider factors such as design, energy efficiency, ease of installation, warranty, and customer support. It is crucial to choose a brand that aligns with the homeowner's specific needs and preferences.
Conclusion
In summary, Hampton Bay ceiling fans are produced by OEMs under the supervision of The Home Depot. The brand offers a wide range of stylish and functional ceiling fans that adhere to strict quality standards.
Although there are other brands available in the market, Hampton Bay's commitment to quality, affordability, and customer support makes it a top choice for homeowners. By understanding the origins of Hampton Bay ceiling fans and the factors to consider when choosing a ceiling fan brand, customers can make informed decisions that best suit their needs and preferences.