In the world of domestic and general-purpose electronics, few inventions stand out as prominently as the portable generator. Beyond providing supplementary electrical power during blackouts (their most popular use), generators are indispensable in other activities such as camping and BBQ parties.
However, although most generators come with ample power outlets, they're notoriously heavy and difficult to move around. That's why the best generator extension cord is required if you want the generator's power to reach further than its location.
Unfortunately, not every extension cord is compatible with generators. So which one should you get? You'll find the answer to that below in our comprehensive buying guide, together with reviews of the top 8 extension cords currently available.
Let's get started!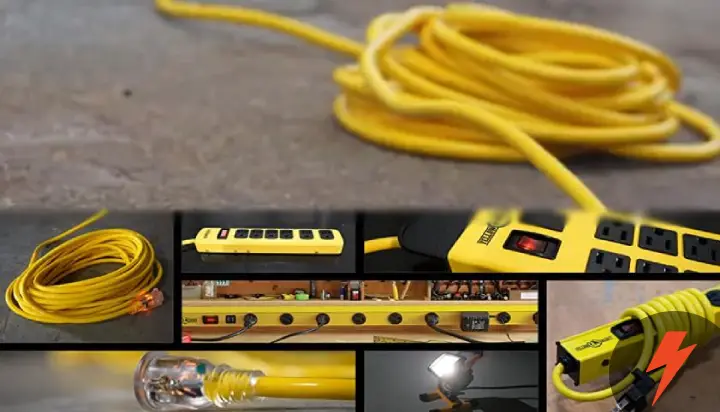 Best Generator Extension Cord Reviews
We have selected the 8 following generator extension cords for your consideration based on a number of important factors. If you're curious about our selection criteria, scroll down for our buying guide.
1. Yellow Jacket 2885 12/3 Contractor Extension Cord
Robust oversized clear-molded plug resists breakage
Lighted ends let you know when the cord is ready for action
Sturdy SJTW yellow jacket is resistant to abrasion, moisture, and grease
High-gloss yellow jacket ensures visibility in all conditions
Available in a variety of lengths from 25 feet to 100 feet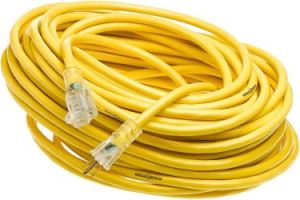 Yellow Jacket has long been associated with the absolute best extension cords on the market, and for a good reason. Equipped with a durable and rugged body, this contractor extension cord is perfect for heavy-duty applications. Let's see what it has to offer.
Measuring 100 feet in length, this extension cord has a 12-gauge body, making it ideal for extending the reach of your generator's power. Its clear-molded plug is 3-pronged, so it's suitable for use in the majority of American households. And it's tough enough to withstand all sorts of pulling and prodding!
But the most prominent feature of this extension cord is undoubtedly the yellow body, after which it is named. The SJTW external jacket of the body is highly resistant to all forms of pesky external influences at any temperature, such as moisture, oil, and the dreaded abrasion.
Because this cord is designed mainly for use in construction sites, it's more than worthy as a mid-duty generator extension cord. Ultimately, it's difficult to go wrong with the Yellow Jacket 2885.
2. Southwire 2549SWUSA1 12/3 Extension Cord
Fully weatherproof molded connectors with high resistance
Lighted ends alert you when the extension cord is ready to be used
American flag-inspired red, white and blue jacket stands out vividly
Available in lengths between 25 and 100 feet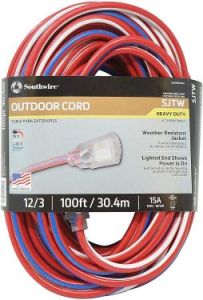 Our next selection is from another renowned manufacturer of extension cords, Southwire. Famed for the durability of their products, this is a brand that also prioritizes durability. What's more, this is one of the more affordable extension cords on our list, so if you're on a budget, you'll like this.
Rated 12 gauges, this extension cord sports a bright and vivid vinyl jacket of red, white, and blue. But it's not just proudly American-made, but behaves accordingly: you could expose this thing to moisture, sunlight, and abrasion for as long as you want, and it wouldn't deteriorate.
In fact, this one is perfect for use with retractable extension cord reels due to its sturdiness. So if you're going to be using your generator to fire up a sizeable campsite or even an RV, this cord will satisfy your needs perfectly.We're also a big fan of the construction of the plug on this cord. The prongs have been made extra durable with the help of reinforced blades, which ensure that your cord won't bend or break. The lighted ends also help you to keep track of the cord's activity. All in all, this is a cord that will not let you down!
3. Yellow Jacket 2805 10/3 Contractor Extension Cord
10-gauge body with a power rating of 15 amps and 125 volts
Oversized clear-molded plugs allow convenient stability.
Highly visible yellow jacket prevents accidents
Certified with UL listing for your safety concerns
Built for resistance to all sorts of influences; perfect for outdoor use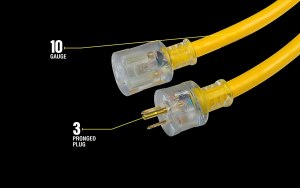 For our third pick, we have selected another one of Yellow Jacket's most highly rated extension cords. With its 10-gauge body and amperage of 15, 2805 is perfect for heavy-duty applications.
Let's start with the distinct yellow jacket of the extension cord. As you may already know, this jacket is built for ultimate durability: it's fully resistant to all sorts of harmful externalities, be it sun, rain, or abrasion. The high visibility of the bright yellow color is also very helpful as it will allow you to keep a close eye on the cord. No more tripping or being bamboozled by the length of the cord!
The clear-molded plugs of this Yellow Jacket extension cord, like the one we reviewed before, are oversized for your convenience. Their robust construction protects them from breaking and bending, while the lighted ends act as efficient activity indicators.
If you're looking for the best outdoor extension cord, we dare say you've found it. But do remember that this is a heavy-duty extension cord; it's extremely thick thanks to its 10-gauge body, and it provides 125 volts, 15 amps, and 1625 watts.
4. Century Contractor Grade 10/3 10 Gauge Power Extension Cord
The light-up plug and connector ends let you know when the cord is ready to go
10 gauge body is rated for heavy-duty usage
The robust construction of the external jacket makes it weatherproof
Bright neon outer jacket increases visibility in all situations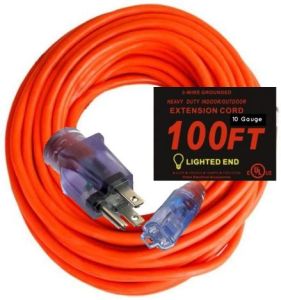 If you're looking for a heavy-duty, high-performing extension cord on a budget, then you're in luck because our 4th pick is from Century. These guys have proven that you don't always have to break the bank for a good extension cord. Let's find out how.
Available in a number of bright neon colors for high visibility, the playful exterior of this extension cord belies its true power. Its highly resistant outer jacket is rated to contend with not only tough weather conditions but is even flame-resistant.
Yep, you read that right! We hope you never have to find out, but should the situation ever arise, this extension cord will see you through rain, wind, and fire.
So let's look at some specs. With a 10 gauge body, this extension cord comes with heavy-duty molded 15 amp / 124v connectors and plugs. And because this guy measures 100 feet in length, you'll have no trouble at all moving it around wherever you need to.
So whether it's an extension cord for leaf blower that you're searching for or a heavy-duty companion for your generator, this extension cord from Century is bound to keep you happy!
5. Pizety 10/3 Contractor Grade Extension Cord
50 feet length, 15amp power, and 10 gauge body
The bright neon green jacket allows for high visibility
Lighted plug ends inform you when the cord is ready to use
Molded-on 13A / 124v connectors and plugs are rated for heavy-duty usage
Strain reliefs measuring 5/8″ prevents accidental disconnection.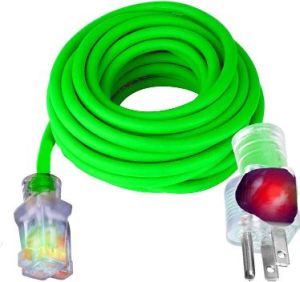 Again, from Century, we bring you another highly rated yet supremely affordable extension cord. This cord retains many of the previous model's lucrative specifications.
Measuring 50 feet in length, this extension cord has a thickness of 10 gauge, which makes it ideal for medium- to heavy-duty applications, so it's perfect for use with your generator. The cord's capacity to produce 15 amps of energy aligns with this, as does its construction.
Yes, this extension cord is also flame-resistant on top of guarding against moisture and water. It's perfectly weatherproof, retaining its flexibility even in below-freezing temperatures. Furthermore, the cord's neon green body, combined with the lighted plug ends, enables it to be highly visible no matter where you put it.
Because of its heavy-duty specifications, this cord is perfect for outdoor use and for tougher applications such as powering a motorhome. As far as portable generator extension cords go, Century surely holds their own!
6. Generac 6883 50-Feet Cord and Reel Kit
Robust steel frame keeps the extension cord securely in place
The 4-plug hub allows you to enjoy your generator's energy from a distance
Each of the outlets is rated for 15 amps / 125v
Credited with a UL listing for your safety
Extension cord measures 50 feet in length, 14 gauge in thickness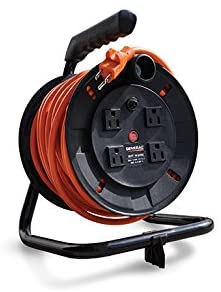 Taking a break from standalone extension cords, we now bring you an extension cord and reel kit! Cord reels are indispensable for many when it comes to heavy-duty usage in campsites and motorhomes, so if that sounds like you, strap in!
So let's start with the extension cord itself. Measuring 14 gauges in thickness and 50 feet in length, this is the ideal extender of your generator's precious power. So no matter how far away your generator is, you can easily reel the cord inside.
This Generac 6883 cord and reel kit is equipped with a durable and robust steel body that promises to keep your extension cord securely in place. You will also no doubt enjoy the 4 outlets, which are designed for ultimate easy access.
Although the extension cord in this kid is not exactly our favorite in terms of construction, it still promises to serve you well for many years. Remember to always keep electricity hazards in mind before plugging any appliances into any power outlet!
7. Watt's Wire 10/3 SJTW Indoor/Outdoor Extension Cord
The highly resistant double-jacket body stands up to corrosion, and fire
Rated to handle up to 150lbs of weight without being damaged
The extremely durable thermoplastic body can be used in temperatures from -40°F to 130°F
Heavy-duty 10-gauge copper wire with added poly strands for extra strength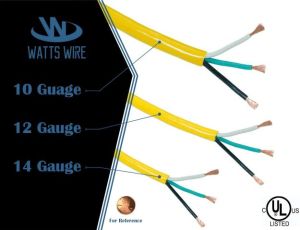 Not mentioning the Watt's Wire 10/3 while discussing the best extension cord for generator would be a crime. With a heavy-duty, 10-gauge body, this extension cord is primarily designed for use by contractors… so you can imagine all that it's capable of! Let's find out what it has to offer.
The body of this extension cord has been built with highly resistant SJTW thermoplastic, which you may recognize as being one of the most durable materials that can be used in making extension cords. It's capable of withstanding temperatures as low as -40°F and as high as 130°F.
Despite its double-jacket construction, though, this extension cord is well-behaved: it won't leave marks or traces anywhere; it's even strong enough to withstand the weight of concrete! More impressively, however, it's perfectly resistant to moisture, corrosion, and even fire.
But how does it perform? The 10-gauge copper inside this extension cord is rated to provide 120v / 15 amps at the lowest possible voltage drop, which is more than you can expect from the majority of 10 gauge extension cords out there. We also love the power splitter on this thing, with its multi-tap design. Overall, it seems this extension cord is truly meant for some hard work.
8. Bold 50012 Contractor Grade 10 Gauge Extension Cord
Measures 50 feet in length with a 10 gauge copper wire thickness
Can withstand temperatures of up to -40 degrees
Ensures your safety with continuous current and ground monitoring
Vivid green body and lighted connectors enhance ground visibility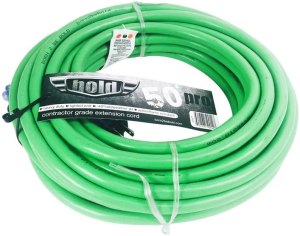 For our final pick, today in the generator extension cords, most worth buying is a high-performing model from Bold. True to its name, the cord has a beautifully bold and vivid green jacket, but that's not the only distinctive thing about it.
Measuring 50 feet in length and equipped with a 10 gauge copper wire, this 300v extension cord is rated for use at contractor job sites, which gives you an idea of its toughness. It can handle extreme weather of up to -40 degrees, while its highly visible jacket keeps you in the know as to its location.
Something we really like about this extension cord is that it's equipped with the ability to provide continuous current and ground monitoring. This is not only an important performance function but an invaluable safety feature.
What's more, this extension cord comes with neon green indicator lights in its female connecters, which alert you in an instant that ground continuity is available. Beyond just extending your generator's power, this cord can come in handy in a number of different situations; one user has even reported to using it to charge their Tesla!
---
Buying Guide for Generator Extension Cords
As we mentioned earlier, not all extension cords are compatible with generators. So before you make your purchase, remember to keep the following factors in mind.
Gauge and Length
One of the best things about extension cords is that they are available in a variety of sizes and thicknesses. But this is not only for functional purposes; the size of an extension cord determines its load capacity significantly.
And when considering an extension cord's size, there are two main factors to look into: the wire's gauge and length. Here's a closer look at each specification.
Every extension cord has inside it a copper wire that relays electrical power. The gauge of the cord is a numerical rating that indicates that copper wire's diameter. If you are purchasing an extension cord in the U.S., you will notice that the identification system of American Wire Gauge is used.
This means that, if the extension cord is rated for 12 AWG, the copper wires inside it are of 12 gauge. Not sure what that means? Just remember this rule of thumb: the smaller the AWG rating, the thicker the extension cord will be, and the higher its load capacity.
Another way the gauge is expressed is alongside the number of conducting wires. A 14/3 cord, for example, indicates that its gauge is 14 while it has 3 conducting wires inside.
For every extension cord, there is a level of voltage drop. This is a measure of how much voltage is lost because of the resistance caused by the cord's internal conducting wires. So what does that have to do with the cord's length?
The voltage drop is directly influenced by the length of the extension cord. The longer it is, the higher the voltage drop will be. Yes, you guessed right: lengthier extension cords are weaker than shorter ones!
Plug Type Compatibility
The NEMA, or National Electrical Manufacturers Associations, classifies up to 150 different outlet types. One of the worst mistakes you can make when buying a generator extension cord is picking one that isn't compatible. Beyond causing inconvenience, it can also be dangerous.
The majority of standby generators, and some portable ones, are fitted with 3- or 4-prong twist-lock plugs that can be connected directly to a transfer switch. Generally, most homes use 4-prong twist-lock plugs.
Now let's refer back to NEMA for their device categorization. NEMA devices are classified into two different categories: twist-locking and straight-blade. The twist-lock connector is essentially for the transfer switch, and it's ideal for heavy-duty, commercial usage. Meanwhile, the straight-blade configuration is ideal for light-duty or general-purpose devices.
Wattage and Amperage
Being informed about the wattage and amperage ratings of your chosen extension cord will allow you to determine whether it's suited to its intended use.
As the power of a generator is measured in watts, it's also important to know the wattage rating of your extension cord. The cord's wattage capacity should ideally be higher than the generator's, so if your generator runs at 5000 watts, your cord should be able to handle at least 6000 watts.
As you may have gathered from our discussion so far, the power of an extension cord is measured in how many amps it can handle. So the higher the amperage rating, the higher the load capacity.
Durability
How well-made your extension cord is determined by its performance and long-term capability. Usually, generator extension cords are made from one of the three following synthetic plastics: thermoplastic elastomer, thermoset, and thermoplastic.
Of these, the thermoset is the strongest and most durable, especially as it's layered with thick, sturdy rubber. Thermoplastic is on the other end of the spectrum with light-duty applications, so it's perfect for indoor use. Thermoplastic elastomer is the middle ground between the two other plastics, and it's usually rated for both indoor and outdoor use. Which brings us to our next point.
Indoor / Outdoor Use
As you may have guessed by now, extension cords come in a large variety. Some are meant exclusively for indoor use, while others are designed to withstand the harsh outdoors. So what's the difference between the two?
Outdoor extension cords are set apart by a thick external protective insulation layer; this allows them to withstand extreme cold or heat. On the other hand, indoor extension cords are thinner and lighter and rated for light- to medium-duty use.
Furthermore, while indoor extension cords are typically limited to a length of 25 feet, outdoor ones can be as long as 100 feet. The gauge also differs; thicker gauges are seen in outdoor cords as they must have a higher load capacity.
Frequently Asked Questions
1. What is a generator extension cord?
It's a length of electrical cable that features a plug at its head and single or multiple outlets at its tail. As the name suggests, such a cord allows you to extend the reach of the chosen power source.
2. Who should use a generator extension cord?
If you frequently take camping trips or if you live in an area prone to electrical blackouts, you will have the most use for an extension cord. You can also use them for non-generator related purposes i.e., powering Christmas lights.
3. Should I plug in the extension cord before or after powering on the generator?
Do it after your generator is already active. Otherwise, it puts pressure on the generator and may damage it or the cord.
4. What does the gauge rating of an extension cord indicate?
The gauge rating is basically a measurement of how much heat the cord can handle. So if it's not long enough for its intended purpose, the cord can overheat.
5. Is there any way to know if an extension cord is overheating or overloading?
Yes. If the cord gets very hot, or if your circuit breaker starts tripping, or you hear uncommon sounds, that means it's overheating.
Conclusion
As we have seen, the best generator extension cords come in all shapes, sizes, and even colors. Now, although we don't like picking favorites, the Yellow Jacket 2885 definitely stands out for its performance and durability.
Looking to spend a little less? Then we would definitely recommend one of the two Century extension cords we've reviewed today; just remember they are primarily suited to heavy-duty applications.
Good luck, and may your power always run smoothly!