The use of Mini Fridges is increasing day by day in homes and offices. It is quite a heavy electrical device that draws in a lot of current to operate. So, you may wonder is it okay to plug it in an extension cord?
The answer is simply yes, but with some twists. Twists mean you cannot just bring any cord and plug the fridge into it. The cord must be suitable for the fridge. So that it can provide the electricity to the fridge according to its need. And of course, without any problem.
I am going to describe about the facts that you should know before doing the job. You are going to learn some new things in the process.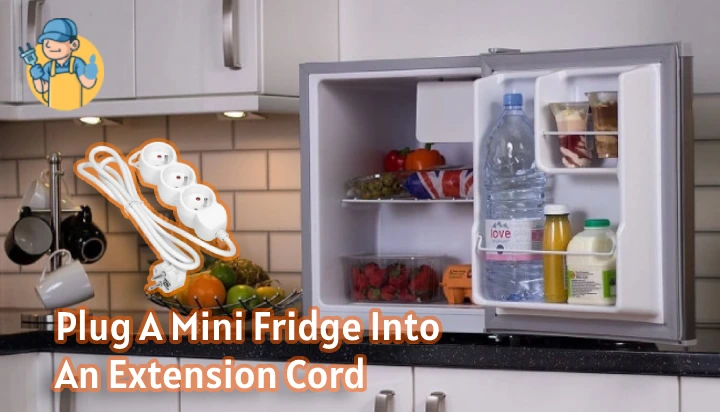 What Is An Extension Cord?
An extension cord is a kind of power cord. It can be of various lengths. The cord is used to connect devices to the outlet when the outlet is in a distance from the device.
Extension cord has different types depending on its capabilities to carry current and the length of it. American Wire Gauge (AWG) system is used to classify the extension cords. The cords are marked by a value of 'gauge'. Let's see what this gauge is.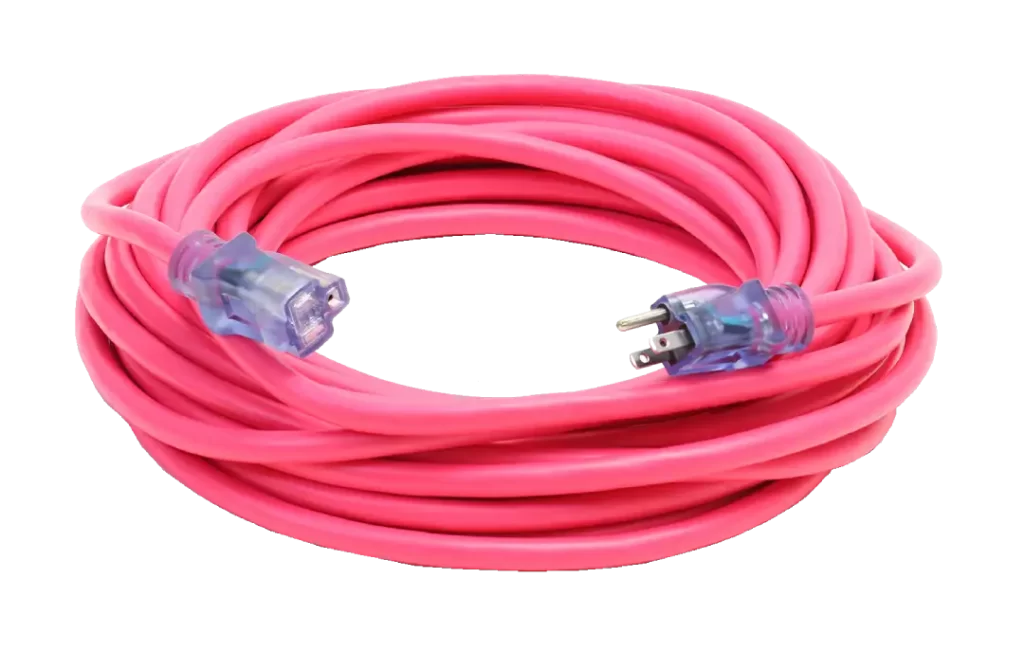 What Is Gauge?
Gauge is the American standard value given to an extension cord to mark its characteristics. So, what are these characteristics?
The first thing is the current carrying capacity known as the Amperage. The other characteristic is the Length. Voltage is also a factor but the characteristics that distinct a cord is the above two.
There are various values of gauge. For example- 12 gauge, 14 gauge, 16 gauge etc. The tricky part here is that, with the increase in the value of gauge, the capacity decreases and vice versa.
Why Do We Need To Plug A Mini Fridge Into An Extension Cord?
Mostly extension cords are used here for the power cord of the mini fridge to reach the outlet. It is a very common scene that, the place where we want to install the fridge is isolated from the outlets. In such case we need an extension cord to connect the power cord to the outlet.
But choosing the correct extension cord is very important. To know which cord is suitable for my device we must know the electrical characteristics of the device. I am going to show how you can choose the right cord for you.
What Are The Electrical Characteristics Of A Mini Fridge?
By electrical characteristics of your mini fridge, it means the voltage, power, current and frequency rating. Generally, these are given in the back of your device. We need to know all these to choose the perfect extension cord for your device.
In America, the rated voltage is 120 volts with a frequency of 60 Hz. The rated current is determined from the rated power, if not given in the label. Generally, a mini fridge uses between 50-100 watts of power. But some fridges can need up to 250 watts to operate. So, the rated current is around 2 amperes.
Which Extension Cord You Should Choose For Your Mini Fridge?
It is said that you should choose a 14 gauge or lower extension cord for your mini fridge. Here, the rated current capacity of a 14 gauge cord is about 10 to 15 amperes. Now, there must be a question arising in your confused head. Like-
Why should I need a 14 gauge wire when the rated current is only 2 amperes?
The main reason is the surge currents. The surge currents can be present during a lightning or starting the device. So, it is recommended to have the wire capable of handling at least 5 times the rated current.
For the stated reason we should choose an extension cord that can hold 10 amperes at least for the mini fridge. We know the capacity of the 14 gauge cord is 10 to 15 amperes but the length is about 50 feet. So, if you need a cord within 50 feet long, then you can choose a 14 gauge wire.
What if you need a cord more than 50 feet long?
In that case, choose a 12 gauge cord. The current capacity of a 12 gauge cord is 15 amperes. But it has a length capacity of 100 feet. In any case, 12 gauge is safer than a 14 gauge cord. So whatever the required length is, you are free to use a 12 gauge cord.
Can I Daisy Chain Extension Cords To Connect To The Fridge?
I would not say you can't daisy chain extension cords, yes you can. But it is not recommended at all. There are certain drawbacks regarding this matter.
The most problematic thing is if the cords are different in capacities. Like- if you connect a 14 gauge cord with a 16 gauge cord, there is a good chance of failure during current surges. Then again, the connecting points of the cords are weak points to be noted. It is recommended to use cords without such joints to avoid risks.
Also Read: Can I Plug An Extension Cord Into A Surge Protector?
Summary:
Now we can come to a conclusion after all the things I have discussed for you. Let me summarize them for a quick check.
First of all, I would say, yes you can plug your mini fridge into an extension cord. It is not a problem unless you do anything wrong.
To avoid doing anything wrong, choose the right cord for your mini fridge.
Check the electrical ratings of your mini fridge to learn about it.
You should use an extension cord of 14 gauge or lower to keep things safe.
14 gauge is okay, but it is better to use a 12 gauge cord in any case.
If you need a cord length of greater than 50 feet, then you must choose a 12 gauge wire.
Do not daisy chain your cords.
And be sure to check for any external damage to your cord to avoid leakage of currents.
Keeping these things in mind you are ready to kick off. Just buy the right extension cord, plug your mini fridge and enjoy. I hope you find this article helpful. Thank you.