UPS systems are extremely necessary for the safekeeping of electronic devices. Much of our life and even our incomes rely on devices like computers and mobile phones.
These expensive devices need electricity to run, and they just can't be disconnected abruptly from the power source. This is why a power back up system like the UPS is vital. Get the best UPS for home use and protect your precious electronics from the effects of a sudden power cut.
There are a few things that the UPS will take care of in order to save your device from losing unsaved data. But not all UPS systems can be trusted -so to learn about the ones you can trust, please keep reading.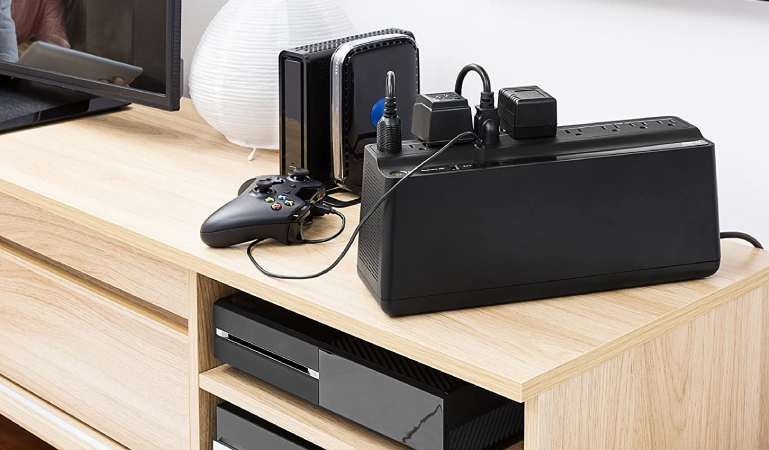 6 Best UPS For Home Use & Small Business Reviews
UPS devices are vital if you want to extend the life of your precious electronic gadgets and keep their stored information safe. Here we have a list of the best UPS devices you can find in the market.
1. CyberPower BRG1500AVRLCD Intelligent LCD UPS System
Highlighted Features
Gives you 12/2 minutes of runtime
Battery capacity is 1500 VA and 900 W
Line interactive system with AVR adjustments
There are 2 USB ports for 2.1A portable devices
Has 12 total outlets for surge protection only and for surge and battery protection combined
Detailed battery information and health status are displayed on the LCD screen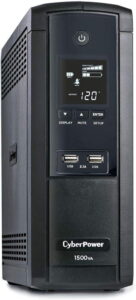 The computer in your house needs protection against external threats like dust and water that will cause a hard drive problem to it. However, a stronger opponent of its health is the damage that happens to it when it forcibly shuts down during a power cut.
Other electronic devices in your house – for example, the WiFi networking router, expensive gaming consoles, stereos, home theaters, and such others also need this protection.
For these intelligent devices, you need an intelligent backup, and that is exactly what this 1500 VA – 900 Watt UPS system is. It has an LCD battery that will keep your devices running for about a bit less than half an hour after the power goes out.
This is a line-interactive USB system with an automatic voltage regulator that will fix all the minor voltage fluctuations very efficiently before they get worse. This will keep your devices healthier and enhance their lifetime.
CyberPower BRG 1500 runs on the managing software that's called PowerPanel Persona. This software helps you to keep track of the health status of the UPS itself, schedule time frames for safe shutdowns, and trigger an automatic reaction to save every file and data from a source as soon as a problem with the regular electrical supply is detected.
There are two USB ports of 2.1 A, which is easy to connect to. You will find NEMA 12 outlets on the device – 6 are for battery and surge protection and 6 more for the surge protection alone.
With so many outlets to connect this UPS to, this will very easily be the best UPS for small business.
2. APC UPS, 1500VA UPS Battery Backup & Surge Protector
Highlighted Features
Battery power is 1500 VA and 900W
A replacement battery can be bought in stores
Will provide about 3 – 5 years of battery service
Has 10 outlets of NEMA 5-15R for outlets with and without surge protection
Comes with the AVR technology to control minor voltage fluctuations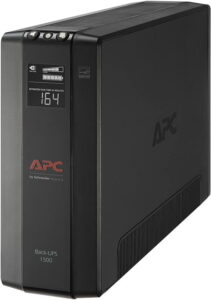 This is another 1500 Volt-Ampere battery, but it has a power of 900 Watts and the output time you will get from this is about  1 hour and 8 minutes given that it has been running 100-Watt devices.
There are 10 NEMA 5-15R outlets on this device, where 5 are for outlets with surge protection and 5 others are for outlets without surge protection.
This UPS will use its AVR technology to keep the voltage in your devices stable by increasing or decreasing the power as necessary. AVR will make sure that the fluctuations of voltage do not cause any disruptions to your connected device. You will also get a network dataline protection of 1 GB, which will protect your routers, and network hubs from the sudden surges that happen in voltage.
There is also a PFC Sinewave system, which will ensure that devices running Active PFC do not face a drop in the current while making the transition from the AC supply to the battery power supply.
You will get about 5 years of service from the battery. After that, you can replace it with a BX1500M that is readily found in the market.
A cord of 6 inches and a right-angled wall plug with 3 prongs will be supplied for direct connection.
3. CyberPower OR500LCDRM1U Smart App LCD UPS
Highlighted Features
Comes with a 10-feet long cord
Battery back for 500 VA, 300 Watts, and 1150 Joules
Run time is 12 minutes on half load and 3 minutes on full load
Has 6 power outlets – 4 for the battery and surge protection combined while the other 2 will have surge protection only
The multifunctional LCD screen will provide details on the run time and battery health status

This smartapp UPS from CyberPower has a smaller capacity than the ones we have been talking about. The battery of this UPS will serve 500 VA at 300 Watts by using the Sine Wave output system.
All servers and network devices that do not have PFC activation will be protected by the simulated sine wave.
You are advised not to connect devices with active PFC compatibility to this UPS because it won't be able to cover the range of gap that happens while the UPS switches from AC power to battery power.
Besides having a battery with a smaller capacity, this device also has fewer outlets – you will find about 6 NEMA 5-15 R outlets with 4 outlets to provide battery and surge backup, and 2 providing only surge protection.
The runtime of the UPS will depend on the devices that are connected to it. But on average, this will be about 12 minutes when it's on half load and about 3 minutes when the device runs on full load.
All information about the running time shown in minutes, power, and battery health status will be displayed on the LCD screen of the device so that you have instant clear access to it.
Download the PowerPanel software on your smartphone to receive notifications about the internal working details of the UPS.
A 10-feet long NEMA 5-15P cord will accompany the UPS for the direct connection into the electrical supply.
4. Tripp Lite SMART1500LCDT 1500VA 900W UPS Battery Back-Up
Highlighted Features
Works 1500 Volt-Ampere on 900 Watts
Has 10 outlets – 5 for devices that need immediate backup and 5 for those that can retain a delay in back up
AVR technology evens out the voltage fluctuations without connecting to the battery's power
Comes with an Ethernet connection to prevent backdoor voltage spikes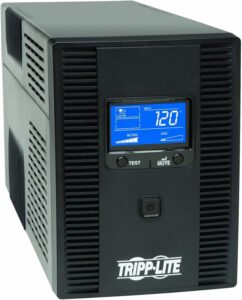 If you want a powerful yet affordable UPS for your in-house PC setup, then the 1500 VA and 900 W power supplied by the battery on this smart UPS will give you plenty of support.
You will have about 90 minutes of runtime if you connect it only to your PC, with the half load running for about 10 minutes only. Details about the run time and the status of the battery will all be displayed on the LCD blue screen over the vertical front panel of UPS so that you have clear access to the system.
There will be 10 outlets – 5 with the power and surge protection for devices like the desktop, keyboard, LCD monitors, external hard drives, wireless routers, and such others, which need an essentially quick backup in case of a power outage. The other 5 will be for providing surge protection on printers and any other devices that don't require immediate backup for data storage.
The AVR technology installed in this UPS won't use the battery power directly in order to make corrections to the voltage ups and downs. This will help the battery to conserve power in case of a severe black out.
You will also get additional protection with a TEL/Ethernet connection that can be plugged into the router to the UPS and then from the UPS to the PC so that any spikes in voltage through the ethernet is also blocked away.
You will get the best UPS battery backup from this device, and it will also come with USB ports, an ethernet connection, and the box will have replaceable batteries.
5. bXterra 1000VA UPS BM1000AVRLCD Intelligent LCD UPS Battery Backup
Highlighted Features
Battery capacity is 1000 VA and 600 W
Provides data line protection to prevent surges from coax lines and Ethernet
10 outlets are ready for connection with devices that require immediate backup and delayed backup as well
The information-bearing LCD screen has an auto shut off mode to help save energy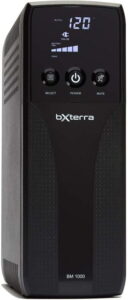 This is the second mini UPS we have on the list, but it is by no means any less powerful. This is a line-interactive UPS system that utilizes Automatic Voltage Regulation (AVR) to correct the spikes and surges of voltage that threaten the health of your electronic device.
The battery has a voltage supply of 1000VA and a capacity for 600 watts of power. It will protect everything you have at home, starting from desktop computers to home theater systems alike.
There are 10 outlets on the device for connection. 5 will provide immediate battery backup to sensitive devices that store critical data – for example, computers and gaming consoles. Other 5 outlets are for washing machines, printers, and such devices that don't store vital information that will need immediate saving.
The LCD screen will provide information on the health of the battery, the runtime data, load level, alerts, and all other information about the power exchange happening between the UPS and your device.
If you want to get rid of the incessant beeping that comes on when the UPS is running its own battery during backup, you can use the mute button to shut out the alerts and get a noise-free environment.
You will need to keep track of the health of the UPS so that you can make an immediate battery replacement before any damage comes to the system.
6. APC BR1500G and BE600M1 Battery Backup Bundle
Highlighted Features
Has two UPS devices in the kit – one for sensitive devices like desktop computers and the other for portable devices like smartphones
The battery capacity of BR1500G is 1500VA and 856 Watts, whereas it is 600 VA and 330 Watts for BE600M1
BR1500G has AVR technology, whereas BE600M1 does not
A replaceable battery is provided for BR1500G but not for BE600M1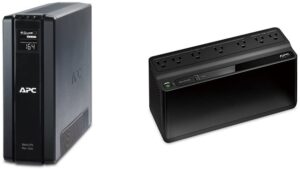 So here you the ultimate UPS package – two comes together at an affordable bundle price. One is the regular UPS, BR1500G, which has a battery capacity of 1500 VA and 865 Watts, and the other is called BE600M1 – a mini UPS with a battery capacity of 600 VA and 330 Watts.
BR1500G has 10 outlets, where 5 outlets offer a combination of battery and surge back up, and the other 5 provide surge protection only. It has the AVR technology installed in it to help devices with Active PFC.
The accompanying power cord is 6 inches in length, and it comes with a NEMA 15-15P wall plug. You will also get the PowerChute management software, which will give you updates about the health and status of the UPS instantly on your phone.
BE600M1 is a UPS that comes with 7 outlets – 5 will have battery backup along with surge protection, and the other 2 will provide surge protection only.
You will get one USB charging port of 1.5A on the device that you can use to connect to portable electronic devices like smartphones, tablets, and such.
The power cord is 5 inches long, and the device can also be mounted up on the wall for your convenience.
---
Things to Consider Before Buying UPS
Learn about the vitals of a UPS system so that you can recognize quality among the vast options you will get in the market. We have made a comprehensive list that will help you understand this power backup system more in-depth.
Types of UPS Systems
There are three types that you need to be aware of. These are called Line-Interactive, Standby, and Double Conversion.
Each of these will protect you in different ways.
Line-Interactive: This one works with the automatic voltage regulation (AVR) system to fix voltage irregularities without taking help from the battery. These line-interactive UPS systems have transformers that detect the voltage level and then increase or decrease it as necessary so that it comes back to the normal level.
Standby/Offline UPS: This is the most common UPS system in use. The device will be directly connected to the incoming power outlet of this system in order to provide battery backup in case of failure and also to provide surge protection. This type of UPS fixes voltage irregularities by using the battery-powered AC-DC inverter that is built inside it.
This standby UPS is a cheaper alternative to the line-interactive UPS system.
Double Conversion: This is the best and the most hardcore protection you could get for the protection of your electronic device. This will form an isolated connection between the main device and the raw utility power so that no power cut has a direct link to the main device.
This type of UPS system is the most expensive because it takes the shortest time to move electrical power from the battery, and so it has the highest level of efficiency.
This is called a double-conversion because there is also another internal bypass system here, which will further save the device from any critical failures.
This is the UPS you want for the devices that have the most sensitive and critical use.
UPS and Power Cuts
If you are confused about the kind of UPS you should get for your device, then you need to do a bit of categorizing here.
The categorizing must happen based on the type of power cuts you usually get in your area.
We are not going to explain what each type of power cut means. We will just match the names for you so that you can quickly do a bit of extra research to know which pair meets your requirements perfectly.
The first types of power issues are called power surges, burnouts, and blackouts  – use a standby UPS for this.
Then comes the line-interactive UPS system, and this one can protect your device from power surges, burnouts, blackouts, along with overvoltage and under-voltage problems.
The last one is, as we said, the best and the most expensive one among the three UPS types. So, this one – the double-conversion UPS – handles all the power problems we just mentioned above and three more like line noise frequency variation and harmonic distortion.
The capacity of the UPS
Every UPS has a fixed amount of power that they have in store. This, of course, is a no-brainer, but the more power a UPS can hold in it, the more devices can be connected to it for support. Power is measured in Watts, so look for UPS systems that have the largest number of watts.
Understand Your Device
To get a good UPS for your device, you have to know how much power each of your devices uses in order to operate. Then you have to calculate the net amount of power that the UPS will need to have so that it can support many devices at once.
Also Read: Best Power Strip with USB | Top Picks
Frequently Asked Questions
1. Will I be able to continue to work with the UPS backup alone?
Ans: This can certainly be done, but we would advise you not to do this because this will cause the battery to drain out faster. It would be much better to use the UPS back up to save all the files and shut off the system in a healthy way as soon as possible.
2. Why are UPS systems necessary for computers?
Ans: Computers are sensitive machines that will start to malfunction if it is subjected to voltage and current fluctuations. To keep the computer safe from permanent damage, it is advised that you get a good UPS system.
3. Is there any hazard to running a UPS?
Ans: Yes, if the UPS gets too hot, then it might catch fire. There is no way to prevent it. This is, however, not common at all. But we would still tell you to always keep a close eye on the status of the running UPS.
4. How to determine which UPS I should get?
Ans: Look at the power requirement of the devices you want the UPS for, and then match it with the battery capacity of the UPS itself. If they align, then you can buy that UPS for your daily use.
5. Are UPS systems worth it in today's world?
Ans: Yes, absolutely. Without a UPS, data-sensitive devices will lose all their unsaved information, but with a UPS, you will get some time to save what you need.
Conclusion
So with that, we come to the end of our article. We have listed the best ups for home use; hope they helped!
One sudden power outage can severely affect the functionality of sensitive electronic devices that store information. So, get a UPS if you don't want your PC to get a sudden shock from the changing state of the current and voltage supply. Best of luck!