Yes, even in 2021, this is a common scenario: a power strip being overpowered by an unforeseen power surge. Consequently, your electronics may blow a fuse or, worse, have their circuitry permanently damaged.
However, it doesn't have to be that way.
There's no reason you should wait around for a power surge to get to your precious expensive electronics before you can. All you need to do is find the best power strip surge protector, and you're good to go.
Especially for those of you reading this who wants to protect valuable electronics that would be difficult to replace, buying a surge protector should be at the top of your to-do list.
Not sure where to look? Not to worry. Here, we have rounded up 6 of the best ones. Find them below.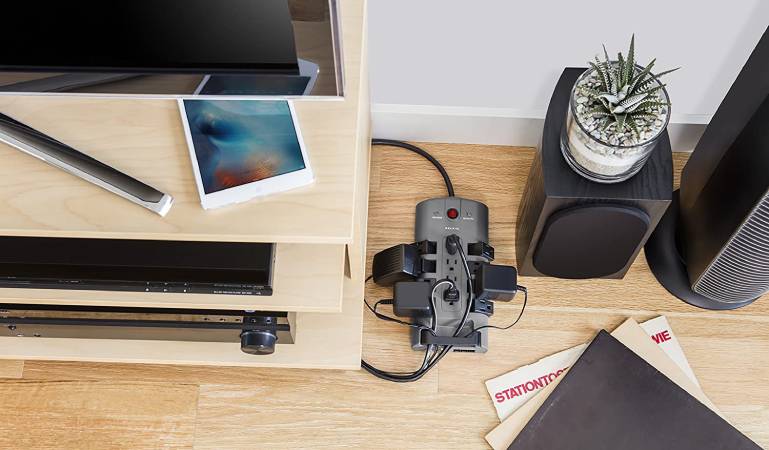 6 Best Power Strip Surge Protector Reviews
So after much research, analysis, and discussion, these are the 6 surge protectors we have settled on as being most worth your consideration. Let's dive right in.
1. Belkin 12-Outlet Pivot-Plug Power Strip Surge Protector
Highlighted Features
The cord measures 8 feet for your ease and convenience
Perfect for use with home theaters and office machinery
Features 8 rotating outlets and 4 stationary outlets
Has an energy rating of 4,320 joules
Can handle spikes of up to 6,000 volts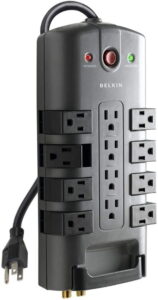 The first power strip surge protector that we have selected for your consideration is from the renowned Belkin. We love this one specifically for its large number of outlets, 8-feet cord, and user-friendly, accessible design.
Let's start with the size. This thing comes equipped with 12 whole outlets, 8 of which are rotating, while the others are stationary. While the spacing could be bigger, the large number of outlets definitely makes things easier.
And speaking of convenience, you're bound to love the 8-foot cord on this surge protector. The higher the number of electronics that are plugged in, the more difficult it can get to achieve mobility. A long cord is a perfect solution.
So let's look at some specs. The energy rating for this surge protector is 4,320 joules, and it can handle power surges of up to 6,000 volts, with capacities for AC 15A, 125V, and 1875W.
All in all, this surge protector undoubtedly offers some of the best performance you can expect. It's worth noting that it doesn't come with USB ports; however, as long as you have the respective wall warts, there shouldn't be a problem!
2. APC UPS BE600M1, 600VA UPS Battery Backup & Surge Protector
Highlighted Features
Provides 600VA power supply as a backup battery
Comes with 2 surge protector outlets and 5 battery backup outlets
Can be expected to last from 3 to 5 years
Features a stylish and aesthetically pleasing design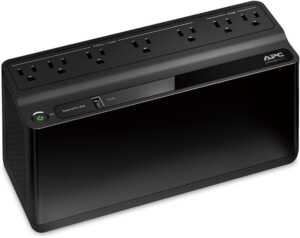 This sleek and stylish little thing from APC comes highly rated and jam-packed full of features that make it one of the best UPS surge protectors currently on the market. Offering a 600VA power supply, this is a highly efficient device.
First off, the most important feature that makes this such a great surge protector: its uninterrupted power supply capability. In the event of a blackout, your plugged-in devices are in the direct line of fire. This device offers not only surge protection but also a back-up battery option!
Outfitted with a sleek and accessible control panel, this surge protector comes with 2 surge protector outlets and 5 UPS battery backup outlets. Furthermore, you're also getting a USB charger port, which will allow you to power portable devices with ease.
The convenience doesn't stop there. This surge protector comes with a power cord measuring 5 feet in length, and is wall-mountable, to boot! And with your purchase, you'll also receive complementary power-management software for your Windows PC.
Now, it's true that this surge protector is quite expensive, and perhaps the power cord could have been longer. However, given all the amazing features it provides, we think it's definitely worth the investment!
3. HOLSEM Surge Protector Power Strip
Highlighted Features
Comes with 6 compactly spaced outlets and 6 widely spaced ones
2 smart USB ports and 1 common USB port allow you to charge devices with ease
4 keyhole slots on the backside allow it to be wall-mounted
Green LED light indicates surge protection status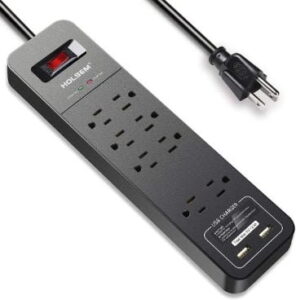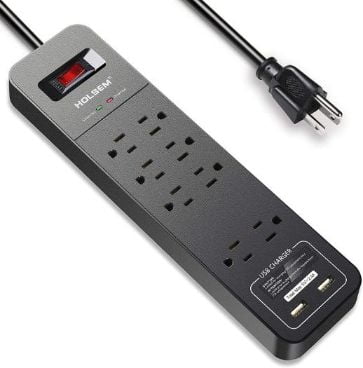 It's true that surge protectors tend to be expensive compared to the majority of regular power strips, and that might dissuade some from buying them. However, this surge protector from HOLSEM proves that you don't have to break the bank for a reliable surge protector.
In fact, this surge protector offers features that will actually make you think you paid a lot more than you actually did. Outfitted with 6 compact outlets and 6 spaced-out sockets, this surge protector also incorporates three USB ports.
The machine operates using 3-line surge protection safeguards so that you never have to worry about the safety of your devices. The convenient green LED light at the top of the machine ensures that you'll always be in the know about the surge protection status.
And that's not all. Even if your power supply runs into overload, the surge protector's double-break safety switch trips automatically.
No compromises have been made; it seems when it comes to convenience and ease of use. The surge protector comes with keyhole slots on its backside, which allow you to wall-mount it horizontally. Plus, the extension cord is a convenient 6 feet. All this, available at a great price.
4. JACKYLED Surge Protector Power Strip Tower
Highlighted Features
12 evenly spaced out AC outlets with lots of space for all your plugs
5 intelligent USB ports allow for fast charging multiple devices simultaneously
Outfitted with overload protection and energy-saving capabilities
The tower design allows you to store it without creating a mess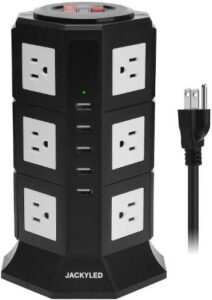 We've had a pretty good look at conventional power strip surge protectors, but did you know of the existence of power strip towers? Yep, you read that right. This next product on our list comes in an imposing, yet highly easy to use tower form. Constructed with fire-proof materials and offering a host of relevant features, this is one of our favorites.
This surge protector, like the others we've looked at, comes with 12 AC outlets. The outlets are spaced out in groups of 4 on each side of the tower and offer a max wattage of 3000 watts. On one side of the tower, too, are 5 USB ports, each one offering a power rating of 2.4A. This not only means that you can charge all of your portable devices, but also that they will be charged just as fast as if you had used their wall warts.
What's more, this surge protector tower comes with two switches on its top side that can be turned on for an energy-saving mode. And of course, you can also expect overload protection capabilities from this thing. Overall, with its tower design, multiple outlets, and reliable functionality, this is definitely a surge protector worth looking into.
5. ECHOGEAR Power Strip Surge Protector
Highlighted Features
Offers reliable surge protection of 2160 joules
Equipped with a conditioner that filters out RFI/EMI noise
MOV sponges are encased inside fireproof ceramic
8-foot power cord facilitates mobility and ease of use
Compact design with 6 rotating AC outlets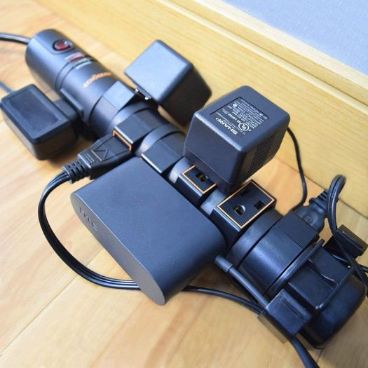 Offering 2160 joules of surge protection and a convenient and smart design, this power strip surge protector from Echogear is one of the most affordable, yet high-performing options on the market. Here's what we like about it.
Equipped with 8 outlets, this surge protector is ideal for use in a home office or for the purposes of powering up a home entertainment system. And because 6 of the outlets are all able to rotate, it'll be easier for you to manage all of your plugged-in devices and adapters.
The theme of saving space is also found in the cable management hooks that you will find on the body of this surge protector, which allows you to make sure that all of your cables behave. Say goodbye to your days of frustrating detangling! And the compact body of the surge protector is also to be applauded for its easy storage.
Plus, thanks to its 8 feet power cord, you'll be able to use this thing over a wider area. The metal oxide varistors inside this surge protector are encased in fireproof ceramic, which ensures your devices will be protected even if there's a huge power surge. Overall, it makes sense why this reasonably priced surge protector has gained such a high rating!
6. APC Surge Protector Power Strip
Highlighted Features
Comes with a 6-foot power cord and wall-mounting capabilities
Offers 5 closely spaced outlets and 6 widely spaced ones
Provides up to 2880 joules of efficient surge protection
Equipped with two 2.4A USB ports for fast device charging
Highly affordable despite offering all relevant features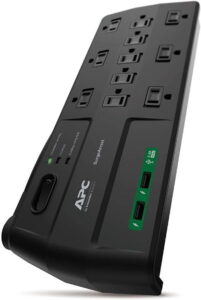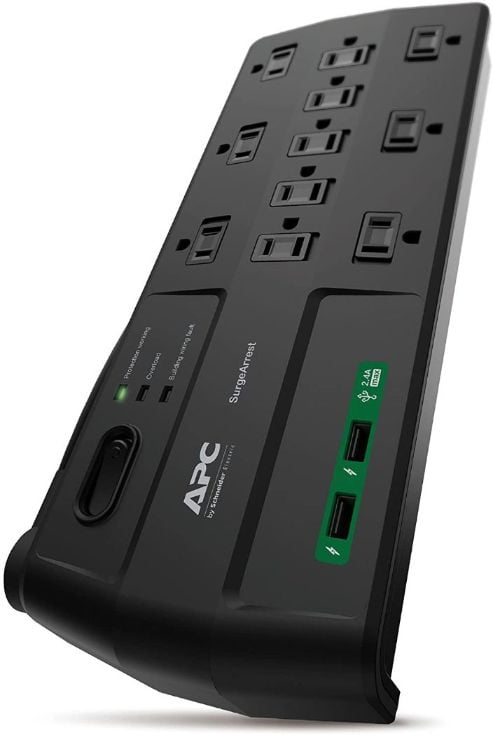 The last one on our list is perfect for those who are looking for a surge protector power strip on a budget. If you remember the APC surge protector we reviewed earlier, then you'll be unsurprised by the convenient design and effortless workability of this one, as well.
Offering 2880 joules of protection, which can be made use of with the help of its 11 smartly distanced power outlets, this device is undoubtedly super-efficient. And since it comes with 2 USB ports, each offering 2.4A of charging power, you won't have to fret when you're unable to locate the wall wart.
Furthermore, the 6-foot power cord allows you to move this thing wherever you need to without having to unplug your devices. Now, the power strip itself is somewhat bulky, but thankfully it's wall-mountable, as well.
So whether the precious electronics in your home have been hit by lightning, power spikes, or unforeseen surges, this thing will have you covered. And it will do so without burning a hole in your wallet!
---
Buying Guide
Before you select the right power strip surge protector for yourself, remember to keep the following factors in mind.
Joules
The amount of protection that you can expect from a surge protector is measured in joules (a unit measuring energy). If you want your device to be able to block off large surges of power, then you need to look for a surge protector with a bigger number of joules.
Do note that no matter how high the number of joules advertised on your surge protector, it's liable to wear out over time. To guard against that, some devices come with a feature to let you know when that's about to happen or auto-shutdown. Otherwise, you won't really have a way of finding out unless a large surge of power fries your electronics.
Conditioner
Many surge protectors come with a "power conditioner," which manipulates the power supply and allows your electronics to perform more efficiently.
What you need to know is that most of the surge protectors–yes, even the ones that don't advertise power conditioning–already do this, so you probably really don't need one.
However, that being said, it's good to look into conditioners if you fit any of the following criteria: you have cheap electronics prone to being damaged, or the power supply in your area is mostly unpredictable.
Size
By the size of the surge protector, we mean both the number of outlets, and the actual size of the thing.
♦ Number of Outlets
Just like power strips, surge protectors also come with varying numbers of outlets, from 4 to 6 to 12. How many you need obviously depends on you, but generally, it's a good idea to buy one with more outlets than you actually need, just in case.
♦ Spacing
Beyond just preparing for the required number of outlets, you'll also need a surge protector that has enough space for large and chunky plugs, wall warts, and adapters. Once again, it's best to prepare for the worst.
USB Compatibility
Yes, it's true: a lot of surge protectors come equipped with USB connectivity. This allows you to plug in and charge mobile USB devices (e.g., smartphone, tablet, Kindle) without having to use the adapter.
The best surge protector with USB, however, is the one that comes with a 2A amp rating. If you get one with a 1A amp rating, you'll just have to resort back to using the wall wart.
Frequently Asked Questions
1. Why do I need a power strip surge protector?
A surge protector can save your electronics from being damaged, sometimes permanently. This reduces the stress of having to fix or—worse—replace them, saving time, money, and sometimes invaluable data.
2. How does a power strip surge protector work?
A surge protector, by essentially sacrificing itself, blocks unpredictable power surges from reaching electronics you have plugged in.
3. What are joules, and why are they important?
A joule is an energy measurement unit. The larger the number of joules your surge protector is able to handle, the better. However, it also depends on the power needs of the plugged-in electronics.
4. How long will a power strip surge protector last?
Eventually, almost every surge protector wears out. Unless your surge protector is programmed to notify you when it's reaching its demise, you'll have to figure out when to replace it—usually between 3 to 5 years.
5. What is the difference between a power strip and a surge protector?
The former is a bar of multiple outlets, allowing you to distribute power from a wall socket. Imagine that, but with protection against power spikes, and that's a surge protector.
Final Words
Today, we've looked at some of the absolute best power strip surge protectors that you can expect to find on the market. Before making your purchase, remember to keep in mind the power rating, size, and relevant functionality features. May your electronics always stay in tip-top shape!