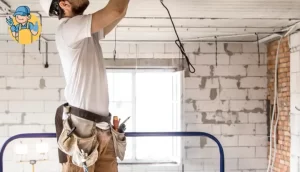 If you are an electrician – no matter professional or DIYer, you can't compromise with the perfection of your job.
Along with that, one more thing you prioritize is safety in the job site.
And don't you care about time? What did you do for all that?
Why don't you try an electrician tool pouch? An electrician tool pouch is another version of the electrician's bag. You can put all your electrician tools to carry the essential tools to your job site.
With the best electrician tool pouch, you can save plenty of time and master the job with high efficiency.
But the question is, how many electrician tool pouches think of these usabilities? Let's find out.
Best Electrician Tool Pouch Reviews
To show you the right place and product, I'm going to share the true knowledge of electrician tool belts and pouches. You should give priority on quality, durability, and, of course, comfortability.
I'll tell you how to do that in my unbiased reviews below. I made this review writing with the best tool pouches, which are dominating the market.
1. Occidental Leather 5500 Electrician's Tool Pouch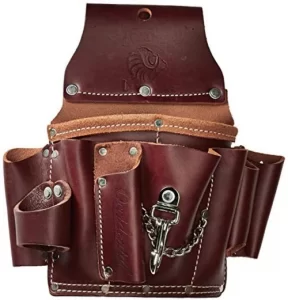 Highlighted Features
It is made of fine leather that gives a friendly shape by the time.
This pouch integrates 15 pockets each of them are for specialized use.
Tool holders are set to the front for most frequently used tools.
It includes loop for flashlight, chain for electrical tape.
Occidental Leather 5500 Electrician's Tool Pouch serves as a small electrician bag for transporting your electrical tools conveniently wherever you like. This pouch comes with fifteen pockets altogether. These fifteen pockets are born for carrying all frequently used tools you need in your job site. It includes a loop for keeping a flashlight.
This unit doesn't let you waste time looking for the tape inside the pouch. You can put all your essential electrical tapes in a chain. The chain is hanging outside the pouch, and you can get your tape whenever you need it. Beyond that, all pockets are conducive to get you access to any tool easily.
It is made of high-quality material, keeping ample space inside. The only downside of this unit for me as a left-hander, most pouches are set up for righties. The hammer loop is in the front, and being a commercial, industrial electrician, my hammer is in the bucket.
The fantastic design gives an aesthetic look. Excellent quality leather and construction, and a beautiful layout give it an overall credit — soft and supple leather and already formed to the shape of your hip. If you carry a ton of tools, it could be a bit small, but there's a spot for all of the ordinary necessities.
In short, this is a leather electrician tool pouch– you can do a lot of DIY home electrical projects with friends and family. It is a no regrets purchase.
2. Style n Craft 70-603 Heavy Duty Tool Pouch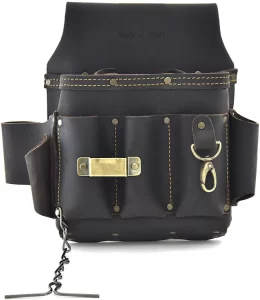 Highlighted Features
Moderate size, so easy to carry anywhere.
Stitched with heavy-duty nylon thread in a bright color.
All large pockets are separated and placed conveniently for easy access.
Bolts are locked with caps for keeping your tools safe inside
Style n Craft 70-603 is an exclusive combination of many things together. It comes in robust, organized and in a stylistic way. This pouch is made of more exceptional grain oiled leather considering the real users in mind.
Stitching with heavy-duty nylon thread will make sure the sturdiness for a longer time. All pockets are placed in the right places wisely to accelerate and help electricians in their job.
This leather electrician tool pouch has ten pockets. It will allow you to put all the essential tools. Beyond that, all the bulky pockets are placed separately. It means you can keep your tools away from each other, and thus it maintains a sound balance of the weight.
Among the ten pockets, seven of them are placed front and sideway of the pouch for quick access of the most important tools like screwdrivers, pliers, hammer, flashlight & other tools. Quick access has a significant return in performance.
On the front, a metal tape clip is clipped for keeping electronic tapes to measure a comfortable job. A metal tape chain for holding several electrical tapes is very crucial for an electrician.
Style n Craft usually offers a 30-day warranty for their all products, if there is any manufacturing issue. So, you'll get this warranty with this pouch. It'll grow your confidence to use with rough hands.
3.OX Tools Pro Tool Belt Electrician's Pouch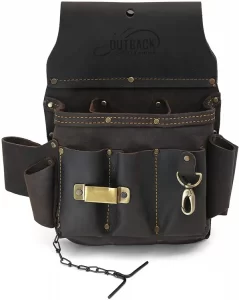 Highlighted Features
Comes with a lot of open compartments without losing its delicacy.
Solid structure, advancing simplicity in utilizing it.
Comfortable to hold with the assistance of a belt clasp or circle.
Ensures that you can without much of a stretch access its substance without any help.
Another worthwhile electrician tool belts and pouches are the OX Tools Pro tool. You cannot but appreciate their products because of their professionalism and dedication they put in their manufacturing tasks.
It is made of top-grain oil-tanned saddle leather. The overall design is done keeping real electricians in mind, and specially made for heavy-duty fastener fortification.
OX Tools Pro Tool Belt Electrician's Pouch's nickname is an electrician pouch making it the highly appropriate investment for the electricians. It comes with all utility to make electrician's jobs helpful and comfortable in the job site or around the home.
This Pouche is protected with heavy-duty bolt strengthening that has a low profile to reduce the chance of scratching surfaces. Not necessary to say that all products from this house are made with high quality, oil-tanned leather. This dedication presents a soft look and feel.
This pro tool electrician belt is made durable with double needlework. And its belt tunnel supports are engaged to strengthen tear-resistance and endure the rough conditions of the job site.
You can undertake this heavy-duty electrical job carrying heavy-weight tools anywhere you need. The leather is top graded and pre-oiled. What made the pouch sturdy yet comfortable. Since it is a leather unit, it gets shaped by time, giving you friendly adjustment with it.
This tool is fit for 3" wide tool belt. In fine, the incorporation of robustness and comfortability makes you pick this pouch.
4. McGuire-Nicholas 526-CC Professional Electrician's Pouch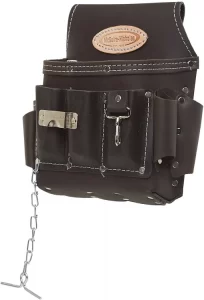 Highlighted Features
Comes with bolt fortifications, making it much more grounded.
Equipped with particular holders for legitimate stockpiling of your things.
Ensures the helpful vertical storing and straightforward entry to your instruments.
Boasts of its lightweight nature and fierce look.
I discover the McGuire-Nicholas 526-CC Professional Electrician's Pouch was actually developed out of false leather material. It is an insightful decision for any specialist who needs the best answer for the best possible association and capacity of their devices. While the quality isn't comparable to different brands, it is as yet excellent as a result of its quality and strength.
Such quality is observable, not just because this pouch is built from leather yet besides on account of its substantial bolt fortifications. I like the particular holders incorporated into this pouch intended for keys, measuring tape, spotlight, hammer, and circuit repairman's tape among numerous different things.
The pouch is likewise made such a way that it ensures straightforward entry to all your work devices while additionally advancing helpful vertical stockpiling. It gloats of its T-chain tape cut. It also fills in as an advantageous convey apparatus pouch. The pouch is additionally lightweight, making it a lot simpler to acquire it in your working environment.
I likewise saw this is a soft pouch with an incredible and tough look. With its colossal measure of room, I feel that conveying many apparatuses is simple for this thing.
One issue I have with this expert electrician's pouch is its firmness. It is substantial, particularly when utilizing it. However, you can mollify it with the assistance of a leather conditioner or infant oil.
5. CLC Custom Leathercraft 1509 Zippered Professional Electricians Tool Pouch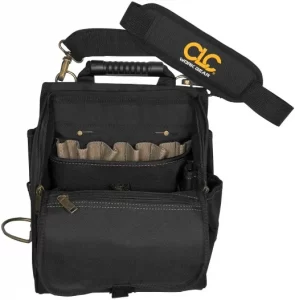 Highlighted Features
Comes with a lot of open compartments without losing its delicacy.
Solid structure, advancing simplicity in utilizing it.
Comfortable to hold with the assistance of a belt clasp or circle.
Ensures that you can without much of a stretch access its substance without any help.
If you are searching for a pouch or utility pouch intended to oblige a higher number of devices, then the 1524 Zip-top Tool Pouch from CLC Custom Leathercraft could be the fitting response. It has a lot of roomy compartments, yet staying lightweight and small.
It has different pouches that can store a full scope of contractor, specialist, or circuit tester extras and other devices. It even accompanies one progressively front board pouch, which will make you enchanted to see since it is sufficiently enormous to hold various tools.
You can similarly observe a couple of ties, sleeves, and spaces incorporated into this pouch to deal with different hand tools. You must love the twofold maneuver zipper spread combination with this item if you come up with its viability in verifying instruments and parts.
Verifying the pouch is additionally simple as you can do it through a belt clasp or circle. You will likewise thank it because it has a clip to let you clasp to your belt some jeans only and safely. You will also appreciate the reliable and secure at the back as you can sometimes try it without wearing a seatbelt.
Another decent component is the tape spool. You will likewise adore the brisk clasp where you can hang additional devices and extras. Similarly, there is a snapback cover, which advances ease in getting to the substance of the pouch with only one hand.
---
Tips for Buying the Top Electrician Tool Pouch
Lightweight tool pouch
Since you are already convinced to shop a pouch, you have to comprehend what to search for so you will get your cash's worth and presumably significantly more. To guarantee that you will get the right pouch, get to know some basic things regarding the best electrician tool pouch. To know them, read this buying guide.
What sorts of activities do you typically do? Will you utilize the tool pocket for your job site or around the house? Or, you want to use for a DIY project or heavy-duty?
If you do medium-scale ventures like supplanting the messed-up tiles on your rooftop, fixing the fence or putting in new light tools in the parlor and eating region, you should have a medium-sized pouch.
If you do enormous tasks like constructing a kindergarten hut, re-exhausting your motor square, or other comparably huge employments. In this case, you need the majority of your devices available. This implies you will require the suspender-type or cover type tool pocket with the goal that your garments won't get messy.
What devices do you usually utilize? Assess the sorts of instruments you as a rule use for your tasks.
If you are into carpentry, and you need to work with loads of sharp instruments like etches, penetrates, and grates, at that point, go for a tool pocket made of materials that are extreme and rough enough to keep the devices from puncturing through.
What number of devices do you need to undertake small projects?  Does your venture expect you to utilize six to twelve distinct instruments one after another? At that point, a colossal suspender apparatus pocket will be your most reliable option. If versatility isn't generally an issue, at that point, you can also get a cover type instrument pocket.
Then again, if you, for the most part, utilize only a few devices, as possibly a couple of forceps and screwdrivers, a hip apparatus pocket is the one that you need.
Materials Utilized 
Tool pockets are made of various materials – from slight vinyl to genuine tanned leather. The more substantial the equipment used, the more costly the final result will be.
Built-in quality
When looking for device pockets, you have to buy the one that has prevalent development. For example, you should check the sewing of the wrinkles. Ensure that they are dually sewed utilizing uncompromising string so they would not fly out when you place overwhelming tools in them.
Frequently Asked Questions
1. How do you soften a new leather tool pouch?
Ans. Utilizing scouring liquor is one of the answers for the unstiffening leather apparatus belt. In a cotton ball or tissue or towel, one needs to take a splash of scouring liquor. At that point, moistening the leather surface by this will mellow the leather device belt gentle. Enough time ought to be given to drench the alcohol profoundly in this process.
2. Does Vaseline soften leather?
Ans. The oil jam will mellow the leather and help keep it from breaking. It will chip away at leather and patent leather shoes, sacks, and different things. However, it shouldn't be utilized for rawhide leather. But you have to use a spotless, build-up free fabric to apply it.
3. How can I soften leather quickly?
Ans. In the market, you'll find several leather conditioning products. Use any of the products to do it. Don't use any artificial methods in this regard. Some people like to apply olive or coconut oil. Press the conditioner onto a piece of fabric and spread it on the outside of the leather utilizing smooth, broad strokes. You can rehash this at regular intervals to keep your leather delicate and supple!
4. Is Coconut Oil suitable for leather?
Ans. The key to maintaining leather furniture and garments is to replenish the natural oils that repel moisture periodically. If you don't have flaxseed oil, you can also use a leather conditioner with coconut oil; it's hypoallergenic and won't spoil.
5. How do you soften leather after it gets wet?
Ans. While the leather is still marginally wet (simply soggy), apply a sensibly thick layer of leather conditioner. Back rub the conditioner into the outer side of the leather and leave it to dry for a few hours or medium-term.
6. Does saltwater ruin leather?
Ans. Salt stains look terrible. At the same time, they will harm your shoes more critically— especially those made of leather. When it gets splashing wet, the salt ascents to the highest point of the shoe. That is how you get the salt stains.
What's Now?
You can get many types of tool pouch in the market. Some of them even can save your money. But we care about quality, longevity and comfortability.
The review you read above is the authentic rundown on the top 5 best electric tool pouch in the market. You can pick the unit which is best suited for your profession.